Current Issue
Vol. 8/III n.s. (June 2021)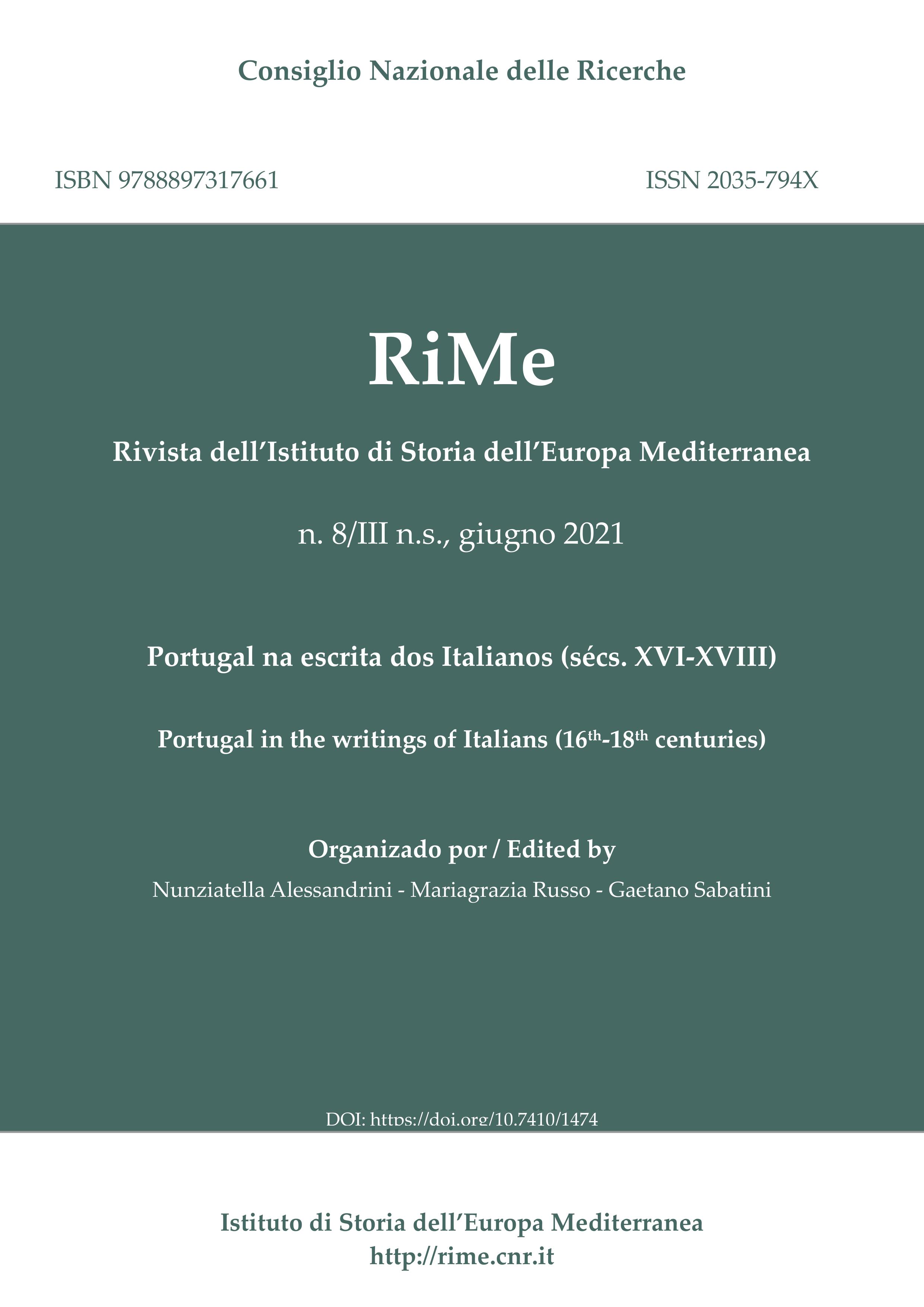 Portugal na escrita dos Italianos (sécs. XVI-XVIII)
 Portugal in the writings of Italians (16th-18th centuries) 
 Organizado por / Edited by
Nunziatella Alessandrini - Mariagrazia Russo - Gaetano Sabatini
This booklet is the second of its kind, after the first published in 2018 in the Journal
Estudos Italianos em Portugal
, by the Istituto Italiano di Cultura in Lisbon. It hosts the contributions of the 9th conference cycle that, since 2011, engages scholars from different cultural areas. Interdisciplinarity, interculturality and internationality are the pillars on which this network of relations is based. It increasingly unites scholars from different nations around specific thematic areas chosen from year to year and elaborated according to different perspectives and optics, but with a constant file rouge: the relations between Italy and Portugal.
The present booklet follows the same methodology: its pages encompass the Italian-Portuguese history from the 15th to the 19th century, highlighting cultural, historical, diplomatic, artistic, musical and literary aspects. The main theme of it is the 'pen', understood as writing, as a 'graphic' realisation of the contact between the two worlds. (From the Introduction)
The booklet also includes a Focus on the succession of the Maestre de campo Don Juan de Rivas, castellan of Cambrai (1596-1616)
Full Issue
View All Issues
RiMe. Rivista dell'Istituto di Storia dell'Europa Mediterranea (ISSN 2035-794X) is an electronic Journal of studies on the Mediterranean, founded by the Institute of History of Mediterranean Europe (ISEM) of the italian National Research Council (CNR).
The Journal is multidisciplinary and brings together methodologies and critical paths in the field of Humanities and it is open to historical, literary, linguistic, philological, philosophical and anthropological contributions.
RiMe is aimed at scholars from different countries, bodies and research groups, in order to promote and support their collaboration around common scientific interests on themes and motives related to the historical identity of Mediterranean Europe and their varied external relations.
The Journal is intended as a place for reflection for an audience of specialists, and, at the same time, as a tool for disseminating the results of research in civil society.
* * *
RiMe. Rivista dell'Istituto di Storia dell'Europa Mediterranea (ISSN 2035-794X) è una rivista elettronica di studi sul Mediterraneo, fondata dall'Istituto di Storia dell'Europa Mediterranea (ISEM) del Consiglio Nazionale delle Ricerche (CNR).
La rivista è multidisciplinare, fa interagire metodologie e percorsi critici nell'ambito delle scienze umane ed è aperta a contributi di carattere storico, letterario, linguistico, filologico, filosofico, antropologico.
RiMe si rivolge a studiose e studiosi appartenenti a paesi, enti e gruppi di ricerca diversi, per promuoverne e sostenerne la collaborazione intorno ai comuni interessi scientifici sui temi e motivi legati all'identità storica dell'Europa mediterranea e alle loro variegate relazioni esterne.
La rivista si propone come organo di riflessione destinato a un pubblico di specialisti e, di pari passo, come strumento di disseminazione dei risultati delle ricerche nella società civile.