Current Issue
Vol. 12/III n.s. (June 2023)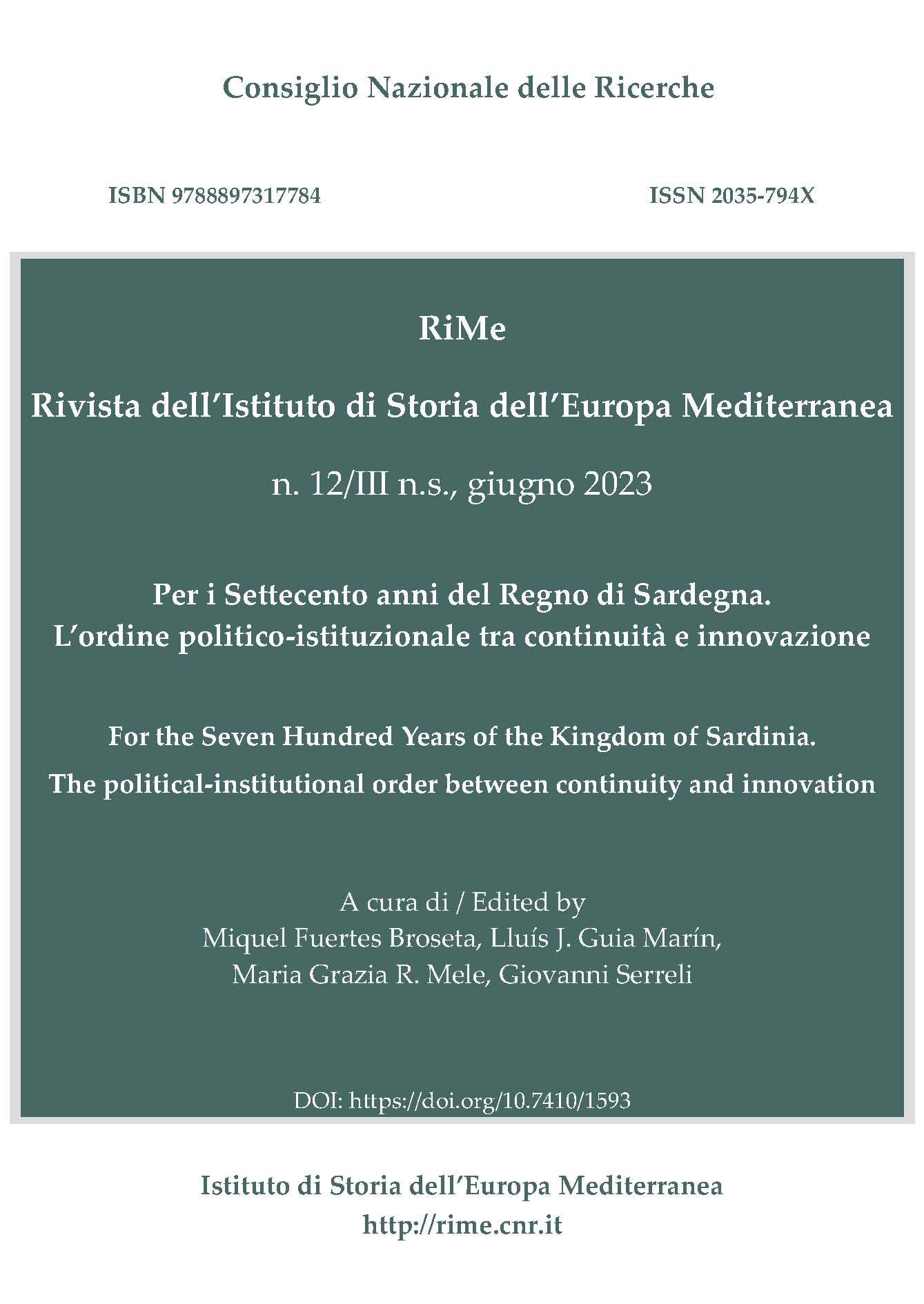 Per i Settecento anni del Regno di Sardegna. 
L'ordine politico-istituzionale tra continuità e innovazione
   For the Seven Hundred Years of the Kingdom of Sardinia.
The political-institutional order between continuity and innovation
A cura di / Edited by 
Miquel Fuertes Broseta, Lluís J. Guia Marín,
Maria Grazia R. Mele, Giovanni Serreli
The year 2023 marks the seven hundredth anniversary of the landing in Sardinia of the Infante Alfonso in command of the Aragonese troops. After a year of military campaign, on 19 June 1324 the Kingdom of 'Sardinia and Corsica' was definitively realised, later the Kingdom of Sardinia since the conquest of Corsica, repeatedly planned, was never realised.
In fact, while the occupation of Pisan territories in Sardinia began in 1323, the institutionalisation of the new Kingdom began in 1324.
From a strictly legal point of view, the bond with the Crown of Aragon had already existed since 1297, when Pope Boniface VIII enfeoffed the Regnum Sardiniae et Corsicae to King James II the Just.
In order to reflect on the historical, cultural, and social significance of the Kingdom of Sardinia, the Scientific Committee wished to extend the analysis to the early 18th century when the Sardinian Kingdom was freed from the Crown of Aragon and the Hispanic Monarchy to be ceded to the House of Savoy.
The approximately fifty contributions are divided into four substantial fascicles. In this issue, 12 (June 2023) the first two are published. In December 2023, the other two.
Full Issue
View All Issues
RiMe. Rivista dell'Istituto di Storia dell'Europa Mediterranea (ISSN 2035-794X) is an electronic Journal of studies on the Mediterranean, founded by the Institute of History of Mediterranean Europe (ISEM) of the italian National Research Council (CNR).
The Journal is multidisciplinary and brings together methodologies and critical paths in the field of Humanities and it is open to historical, literary, linguistic, philological, philosophical and anthropological contributions.
RiMe is aimed at scholars from different countries, bodies and research groups, in order to promote and support their collaboration around common scientific interests on themes and motives related to the historical identity of Mediterranean Europe and their varied external relations.
The Journal is intended as a place for reflection for an audience of specialists, and, at the same time, as a tool for disseminating the results of research in civil society.
* * *
RiMe. Rivista dell'Istituto di Storia dell'Europa Mediterranea (ISSN 2035-794X) è una rivista elettronica di studi sul Mediterraneo, fondata dall'Istituto di Storia dell'Europa Mediterranea (ISEM) del Consiglio Nazionale delle Ricerche (CNR).
La rivista è multidisciplinare, fa interagire metodologie e percorsi critici nell'ambito delle scienze umane ed è aperta a contributi di carattere storico, letterario, linguistico, filologico, filosofico, antropologico.
RiMe si rivolge a studiose e studiosi appartenenti a paesi, enti e gruppi di ricerca diversi, per promuoverne e sostenerne la collaborazione intorno ai comuni interessi scientifici sui temi e motivi legati all'identità storica dell'Europa mediterranea e alle loro variegate relazioni esterne.
La rivista si propone come organo di riflessione destinato a un pubblico di specialisti e, di pari passo, come strumento di disseminazione dei risultati delle ricerche nella società civile.