Il 'viaggio' dei santi al seguito dei nuovi dominatori nella Sardegna medievale
The 'journey' of saints following the new rulers in Medieval Sardinia
Rossana Martorelli

Università degli Studi di Cagliari
Keywords:
Saints, Worship, Sardinia, Middle Ages, Eulalia, Santi, Devozione, Sardegna, Medioevo
Abstract
Abstract
Recently many studies about the origin of the worship and its circulation during the ancient and medieval age had clearly shown that the main input is not due to the popular spirituality, but more often of the politic and ecclesiastical people. The saints 'travel' for different reasons, in which the worship of the authorities for their own saints, it means for the saints of their own countries. After the conquest they introduce this worship in their new properties. This paper aims to give a picture of the medieval Sardinia (in particular in the 13th -14th Centuries) under the power of Pisa and the Catalonia-Aragon, putting in light the different sides of the worship through the analysis of the monumental and material sources.
Riassunto
Le recenti indagini sulle origini della devozione e sulle modalità e i tempi di circolazione nel mondo antico e medievale hanno ormai dimostrato con chiarezza che il motore principale ed iniziale non è generato dalla spiritualità popolare, bensì più spesso dalle alte personalità della sfera religiosa e politica. I santi 'viaggiano' per diverse ragioni, fra cui la venerazione fortemente sentita nella madrepatria dei potenti, che dopo la conquista introducono nei nuovi territori anche il culto per i propri santi. Il presente contributo intende presentare in sintesi un quadro della situazione che si verifica nella Sardegna medievale (in particolare nei secoli XIII-XV), sotto i Pisani e i Catalano-Aragonesi, ponendo in evidenza le diverse e molteplici sfaccettature della devozione attraverso l'esame delle fonti e delle testimonianze monumentali e materiali.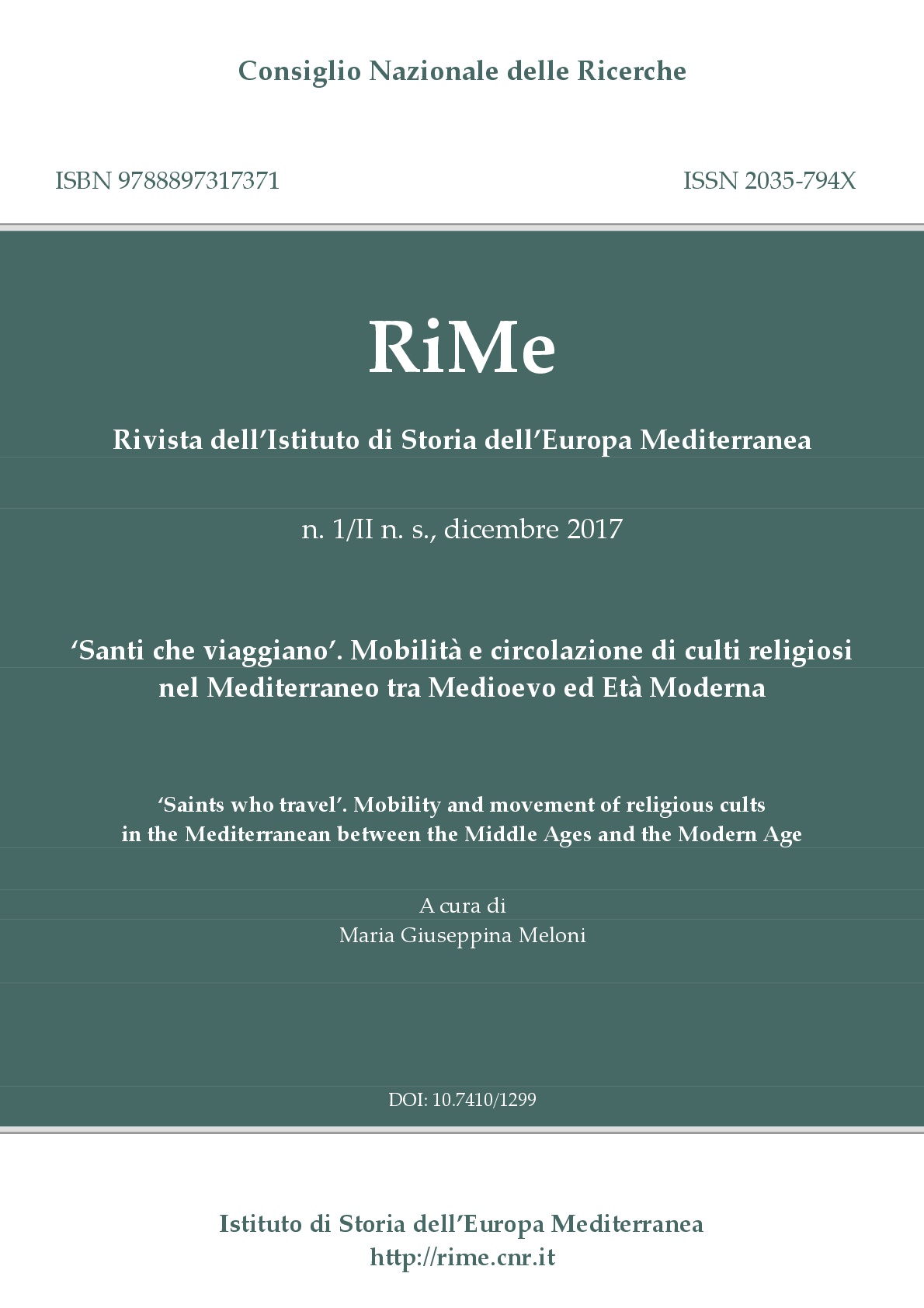 This work is licensed under a Creative Commons Attribution-NonCommercial 4.0 International License.
Authors who publish with this Journal agree to the following terms:
Authors retain copyright and grant the Journal right of first publication with the work simultaneously licensed under a Creative Commons Attribution-NonCommercial 4.0 International License.
This Journal permits and encourages authors to post items submitted to the Journal on personal websites or institutional repositories both prior to and after publication, while providing bibliographic details that credit, if applicable, its publication in this Journal.