Dalla rivolta tunisina alla primavera araba: tra tradizione e modernità
From the Tunisian revolt to the Arab Spring: between tradition and modernity
Michele Brondino

Enciclopedia del Mediterraneo

Yvonne Fracassetti
Keywords:
Arabic spring, dictatorship, Islamic movements, elections, democratic transition, globalization, modernity, Primavera araba, dittatura, movimenti islamici, elezioni, transizione democratica, globalizzazione, modernità
Abstract
Tunisia, pioneer of the Arabic spring, with a constitutional past and the basis of a modern state, is the only Arabic country which begun a renewal in society and a modernization of institutions in order to evolve towards a democratic model of society. This renewal was stopped by the regime of Ben Ali, so democracy was greatly demanded by the revolt which took place in January 2011. The first free elections, in October 2011, in a chaotic and uncertain post‐revolutionary climate, support an identity ballot for order giving power to the Islamics of Ennahda that are taking apart piece by piece the building of the modern state inherited from Bourguiba, while declaring themselves opened to a parliamentarian and democratic system. The evolution of Tunisia today stands like a paradigm all over the Arab‐Muslim world confronted to fundamental choices about modernity. Neither inner pressures nor international positions for the status quo are supporting the democratic transition.
La Tunisia, pioniera della "primavera araba", con un passato costituzionale e le basi di uno stato moderno, è l'unico paese del mondo arabo ad aver avviato un processo di modernizzazione della società e delle istituzioni in grado di evolvere verso il modello democratico, bloccato dal regime di Ben Ali e richiesto a gran voce dalla rivolta del gennaio 2011. Le prime elezioni libere, dell'ottobre 2011, in un clima postrivoluzionario caotico e incerto, hanno favorito un voto identitario e per l'ordine portando al potere gli islamisti di Ennahda che, pur dichiarandosi aperti ad un sistema parlamentare e democratico, stanno smontando pezzo dopo pezzo l'edificio dello stato moderno ereditato da Burghiba. L' evoluzione della Tunisia si pone  oggi come paradigma per tutto il mondo arabomusulmano confrontato a scelte fondamentali sulla modernità. Ma né le tensioni interne né le posizioni internazionali a sostegno dello status quo sono favorevoli alla transizione democratica.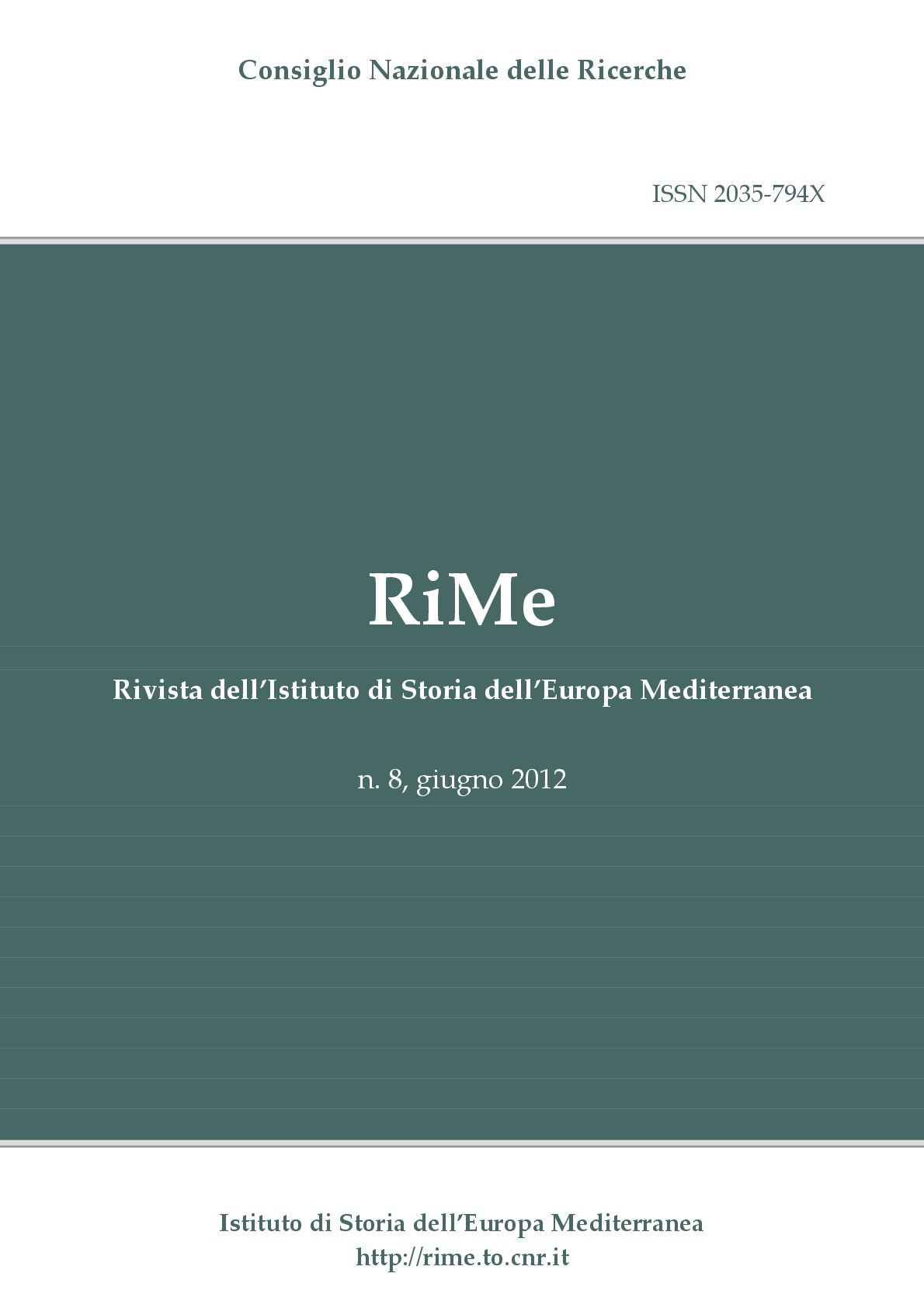 This work is licensed under a Creative Commons Attribution-NonCommercial 4.0 International License.
Authors who publish with this Journal agree to the following terms:
Authors retain copyright and grant the Journal right of first publication with the work simultaneously licensed under a Creative Commons Attribution-NonCommercial 4.0 International License.
This Journal permits and encourages authors to post items submitted to the Journal on personal websites or institutional repositories both prior to and after publication, while providing bibliographic details that credit, if applicable, its publication in this Journal.