La presencia gallega en la Argentina: temas, desafíos teórico-metodológicos y fuentes disponibles
The Galician presence in Argentina: topics, theoretical-methodological challenges and available sources
Ruy Farías

Consejo Nacional de Investigaciones Científicas y Técnicas; Universidad Nacional de San Martín
Keywords:
Galicia, Argentina, Migrations, Exiles, Historiography, Migraciones, Exilios, Historiografía
Abstract
The scholarship about migration and exile from Spain to Argentina varies greatly, both in quantity and in quality, depending on the ethnic-regional group under consideration. The Galician case is by far the one that has received more attention and the one that presents a greater thematic diversity. This latter point is made evident in diversity of topics analyzed, the timeframes contemplated, the methodologies employed, and the sources used. Keeping this in mind, in this paper I lay out what I consider to be pending issues for a future research agenda, and I reflect on the possibilities for future inquiries concerning the diverse presence of the Galician community in Argentina.
Existen, dentro del campo de los estudios sobre las migraciones y exilios españoles a la Argentina, notables variaciones en cuanto al desarrollo de las investigaciones sobre los diferentes grupos étnicoregionales peninsulares. El caso gallego es, sin duda, el que ha sido tratado con mayor profundidad y diversidad temática, como se desprende del análisis de los temas abordados, sus marcos temporales y espaciales, o las metodologías y fuentes utilizables, entre otros. Reflexionamos sobre esos ítems, fijando a la vez nuestra posición respecto a la agenda pendiente, y las condiciones de posibilidad para las
futuras indagaciones en el vasto universo de la presencia galaica en la República austral.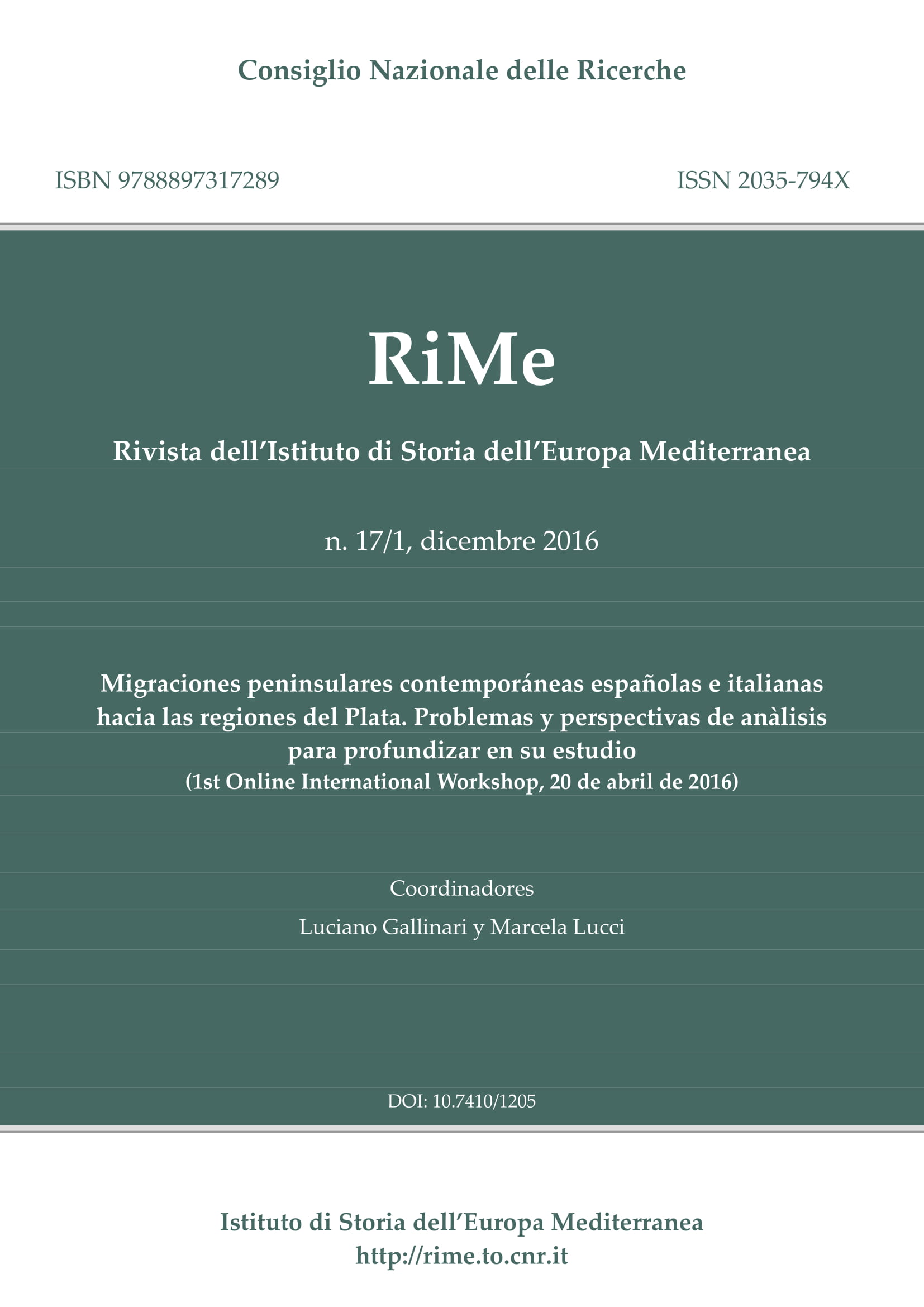 This work is licensed under a Creative Commons Attribution-NonCommercial 4.0 International License.
Authors who publish with this Journal agree to the following terms:
Authors retain copyright and grant the Journal right of first publication with the work simultaneously licensed under a Creative Commons Attribution-NonCommercial 4.0 International License.
This Journal permits and encourages authors to post items submitted to the Journal on personal websites or institutional repositories both prior to and after publication, while providing bibliographic details that credit, if applicable, its publication in this Journal.