Radicamento cittadino, uso aristocratico dello spazio urbano e mobilità sociale a Napoli nel medioevo: note sulla regio Sedilis Nidi (XIII-XVI inc.)
City rootedness, aristocratic use of urban space and social mobility in Naples in the Middle Ages: notes on the regio Sedilis Nidi (13th-early 16th century
Monica Santangelo

Università degli Studi di Napoli Federico II
Keywords:
14th-16th centuries, Kingdom of Naples, Noble Families, Urban Space, Social Prominence, XIV-XVI secolo, Regno di Napoli, Famiglie nobili, Spazio urbano, Preminenza sociale
Abstract
Conceived as a new stage of research on the Neapolitan Seggi, the essay examines the question of the rootedness and the control of the urban space between the 13th and early 16th centuries, contributing new knowledge on the regio Nidi, thanks also to unpublished sources. It analyses the residential strategies developed by some noble families defined as antique at the end of the 15th century and the practices of the urban space control they even-tually activated. The aim is to examine how the vetustas i.e. rootedness and unflinching control of the urban space is perceived as a criterion of social distinction and as a symbolic notion codified by the ancient nobility in the late 15th century.
Concepito come nuova tappa di una ricerca sui Seggi napoletani, il saggio affronta la questione del radicamento cittadino e del controllo dello spazio urbano tra il XIII e gli inizi del XVI secolo, apportando nuove conoscenze sulla regio Nidi, grazie anche a fonti inedite. Analizzando le opzioni insediative di alcune famiglie definite antique a fine '400 e le pratiche di controllo che esse eventualmente attivarono, s'intende riflettere sui modi con cui la 'vetustas' del radicamento e del controllo dello spazio è intesa come criterio di distinzione sociale e come elemento centrale nell'immaginario simbolico della nobiltà radicata a fine '400.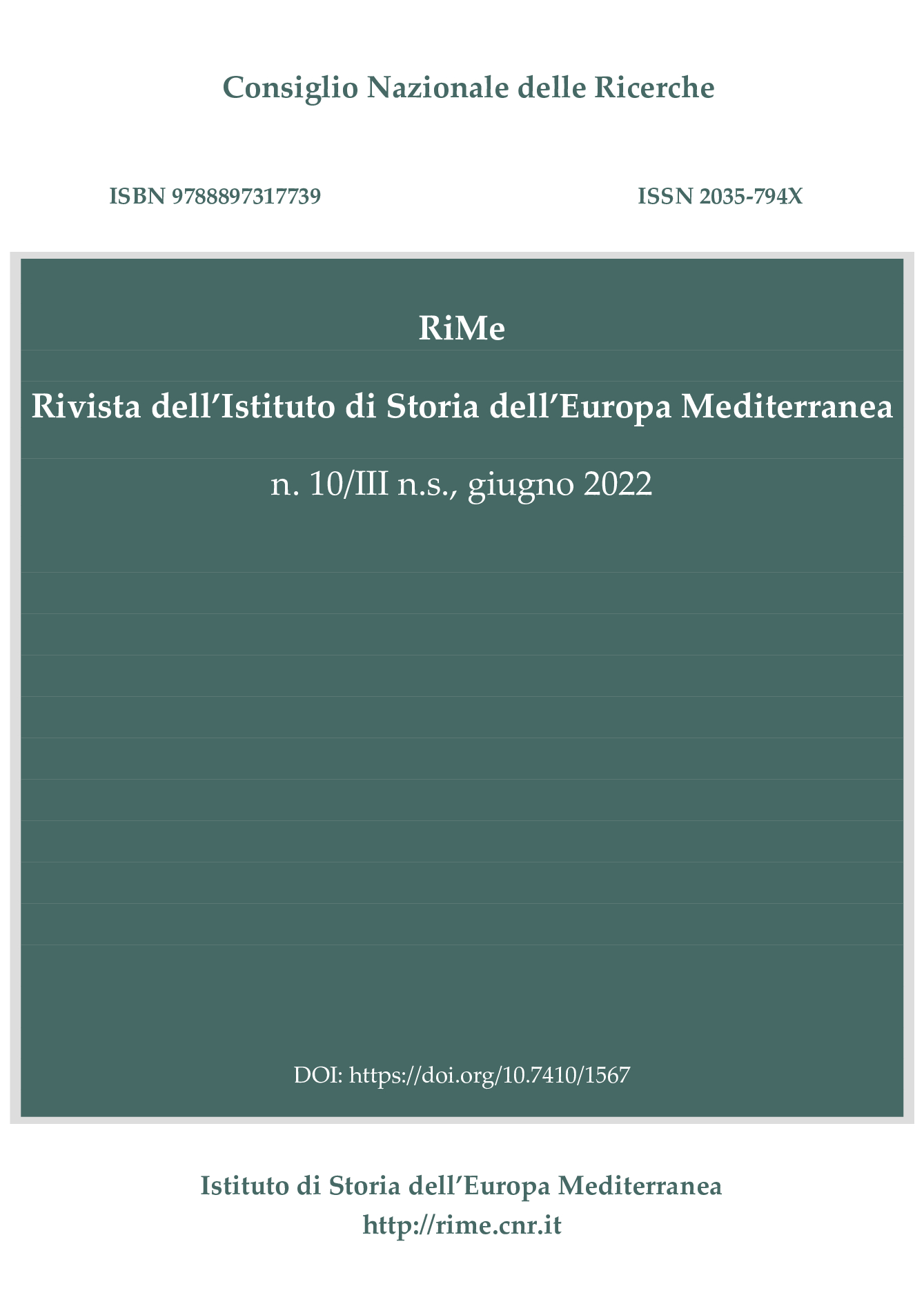 Section
RiMe 10/III n.s. (June 2022)

This work is licensed under a Creative Commons Attribution-NonCommercial 4.0 International License.
Authors who publish with this Journal agree to the following terms:
Authors retain copyright and grant the Journal right of first publication with the work simultaneously licensed under a Creative Commons Attribution-NonCommercial 4.0 International License.
This Journal permits and encourages authors to post items submitted to the Journal on personal websites or institutional repositories both prior to and after publication, while providing bibliographic details that credit, if applicable, its publication in this Journal.