Consenso, controllo e coercizione militare in uno stato di emergenza permanente. Lombardia e Piemonte nelle Guerre d'Italia
Consensus, control and military coercion in a permanent state of emergency. Lombardy and Piedmont during the Italian Wars
Keywords:
Coercion, Consensus, Italian Wars, New Military History, Privilege, State-Building, Coercizione, Consenso, Guerre d'Italia, Privilegio
Abstract
The contribution examines the twenty-year dispute between the Habsburgs and Valois for Milan in the last decades of the Italian Wars. The permanent state of emergency's management in the State of Milan and in the nearby domains of the Duke of Savoy, occupied by French and Imperial troops, required both dynasties to resort to force and to seek the consensus of their Italian subjects, involved in the war effort at various levels and according to dynamics that crossed the sovereigns' political targets with the requests and aspirations of vast sectors of Lombard and Piedmontese society.
Il contributo prende in esame la ventennale contesa tra Asburgo e Valois per il possesso di Milano negli ultimi decenni delle guerre d'Italia. La gestione dello stato permanente d'emergenza nello Stato di Milano e nei domini del duca di Savoia, occupati dalle truppe francesi e da quelle imperiali, richiese da parte delle due dinastie tanto il ricorso alla forza, quanto la ricerca del consenso dei propri sudditi italiani, coinvolti nello sforzo bellico a vari livelli e secondo dinamiche che, in definitiva, incrociarono gli obiettivi politici dei vertici sovrani con le istanze e le aspirazioni di vasti settori della società lombarda e piemontese.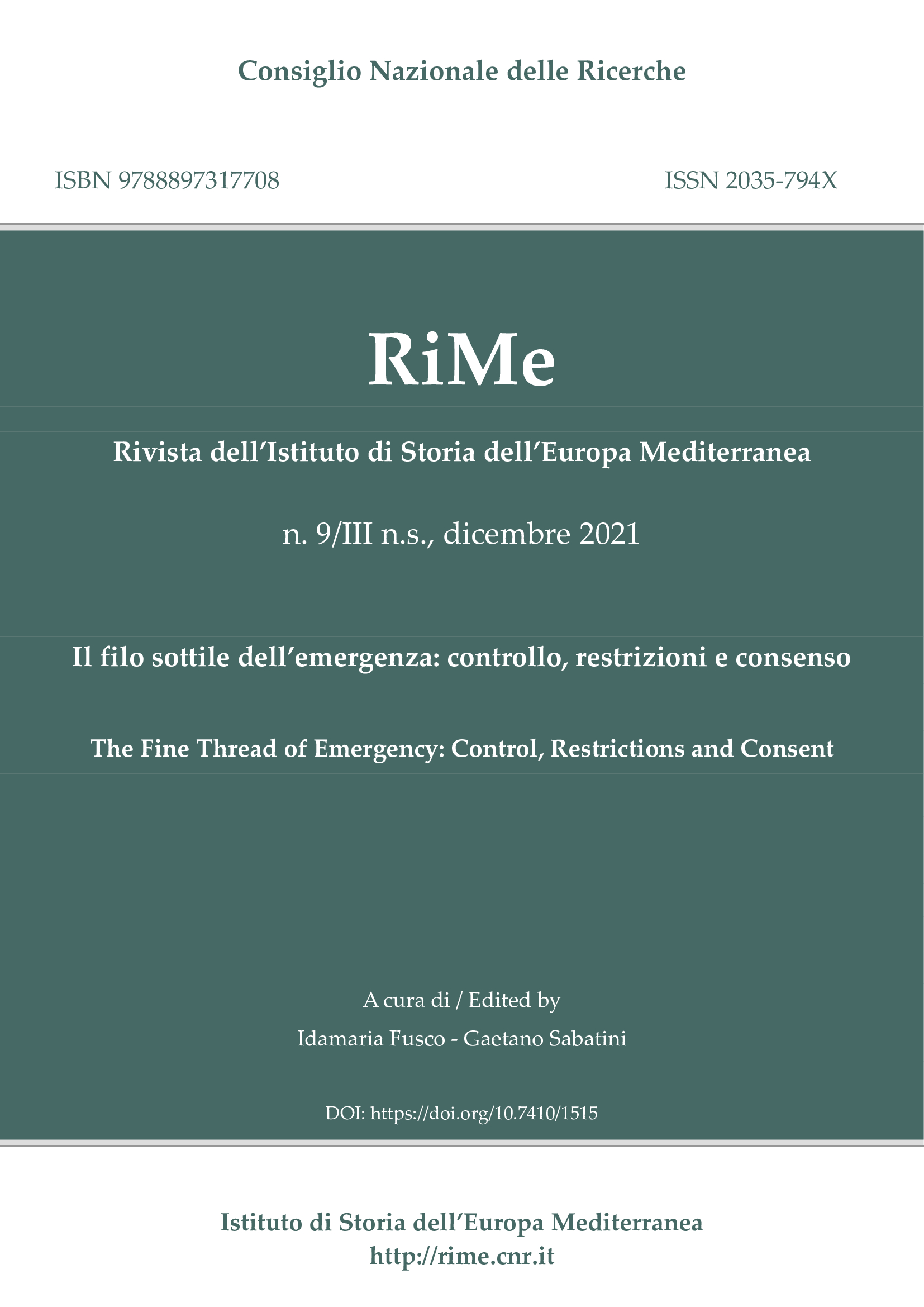 Section
RiMe 9/III n.s. (December 2021). Special Issue

This work is licensed under a Creative Commons Attribution-NonCommercial 4.0 International License.
Authors who publish with this Journal agree to the following terms:
Authors retain copyright and grant the Journal right of first publication with the work simultaneously licensed under a Creative Commons Attribution-NonCommercial 4.0 International License.
This Journal permits and encourages authors to post items submitted to the Journal on personal websites or institutional repositories both prior to and after publication, while providing bibliographic details that credit, if applicable, its publication in this Journal.