Imperative Minorities and Transoceanic Connections (c. 1572 – c. 1621)
Elsa Macedo de Lima Penalva

CHAM, Faculdade de Ciências Sociais e Humanas (FCSH), Universidade NOVA de Lisboa, 1069-061 Lisboa
Keywords:
New Christians, Jesuits, Macao, Nagasaki, Social Networks, "cristãos-novos", Jesuitas, Redes sociais
Abstract
In 1601, D. Luís Cerqueira, Bishop of Japan, revealed a multicultural social network composed of merchants - some of which were "cristãos-novos" - and Jesuits which connected Nagasaki, Macao, Manila, Goa and Siam. By analysing the paths of Jewish-origin merchants belonging to this network, we aim to question their importance within the Jesuit project's sustenance and survival network  in East Asia and Macao itself. We also look at the reach of the cristão-novos network which was useful to the self-financing strategy launched by Alessandro Valignano, S.J, and that was of key importance between 1593 and 1596 when the cristão-novo Jesuit Gomes Vaz was the procurator. A network which by operating in concert with the Jesuits still connected Nagasaki and Macao to Portugal, Peru, Mexico, Manila, Goa, Kochi and the Ottoman Empire.
Em 1601 D. Luís Cerqueira, bispo do Japão, revelou uma rede social multicultural composta por mercadores – alguns dos quais «cristãos-novos» – e por jesuítas, que conectavam Nagasaki, Macau, Manila, Goa e o Sião. A partir da análise do percurso de mercadores de origem judaica pertencentes a esta rede, propomo-nos questionar o seu peso na rede de sustentação e sobrevivência do projecto jesuíta na Ásia Oriental e da própria cidade de Macau. Questionamos também o alcance da rede de cristãos-novos, útil à estratégia de autofinanciamento projectada por Alessandro Valignano, S.J, na qual foi determinante entre 1593 e 1596, o desempenho do cargo de procurador por parte do jesuíta cristão-novo Gomes Vaz. Uma rede que, operando concertadamente com os jesuítas, conectava Nagasaki e Macau com Portugal, Peru, México, Manila, Goa, Cochim e com o Império Otomano.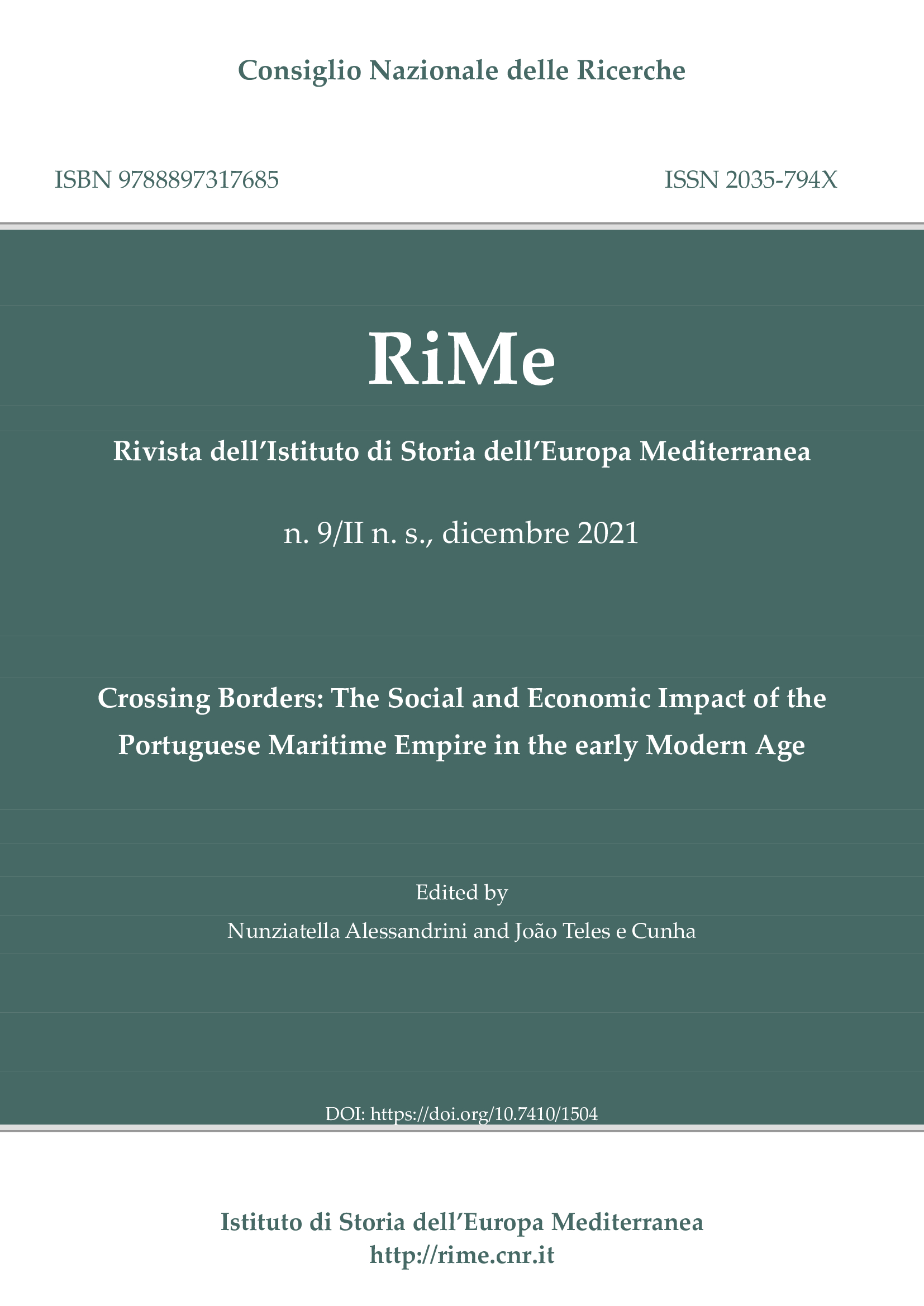 Section
RiMe 9/II n.s. (December 2021). Special Issue

This work is licensed under a Creative Commons Attribution-NonCommercial 4.0 International License.
Authors who publish with this Journal agree to the following terms:
Authors retain copyright and grant the Journal right of first publication with the work simultaneously licensed under a Creative Commons Attribution-NonCommercial 4.0 International License.
This Journal permits and encourages authors to post items submitted to the Journal on personal websites or institutional repositories both prior to and after publication, while providing bibliographic details that credit, if applicable, its publication in this Journal.