The Island Trade Route of São Tomé in the 16th Century: Ships, Products, Capitals
Arlindo Manuel Caldeira

CHAM, Faculdade de Ciências Sociais e Humanas (FCSH), Universidade NOVA de Lisboa, 1069-061 Lisboa
Keywords:
São Tomé Island, 'carreira', 16th Century, Enslaved Africans, Sugar, Ilha de São Tomé, Século XVI, Africanos escravizados, Açúcar
Abstract
The 'São Tomé carreira' was not just the route that connected Lisbon to the island in the Equator. It stretched along the west coast of Africa to Elmina, Congo, and Angola, and in another direction reached Central America and Brazil. In Europe, it had extensions to the Northern countries of the continent and reached the Italian marts of the Mediterranean. Although it survived beyond this period, it attained its peak in the century from roughly 1520 to 1620. What kept most parts of the route in movement was the trafficking of enslaved Africans, but during this period sugar trade (of which São Tomé and Príncipe became the world's largest producers) also played a major role.
A 'carreira de São Tomé' não era apenas a rota que unia Lisboa à ilha do Equador. Prolongava-se pela costa ocidental de África até à Mina, ao Congo e a Angola e, noutra direcção, atingia a América Central e o Brasil. Na Europa, tinha extensões pelos países do Noroeste do continente e chegava às praças italianas do Mediterrâneo. Embora tenha sobrevivido para lá desse período, a sua época mais florescente durou cerca de um século, grosso modo entre 1520 e 1620. O que animava a maioria dos segmentos da 'carreira' era o tráfico de africanos escravizados, mas, durante o referido período, também o comércio do açúcar (de que São Tomé e Príncipe chegou a ser o maior produtor mundial) teve um papel decisivo.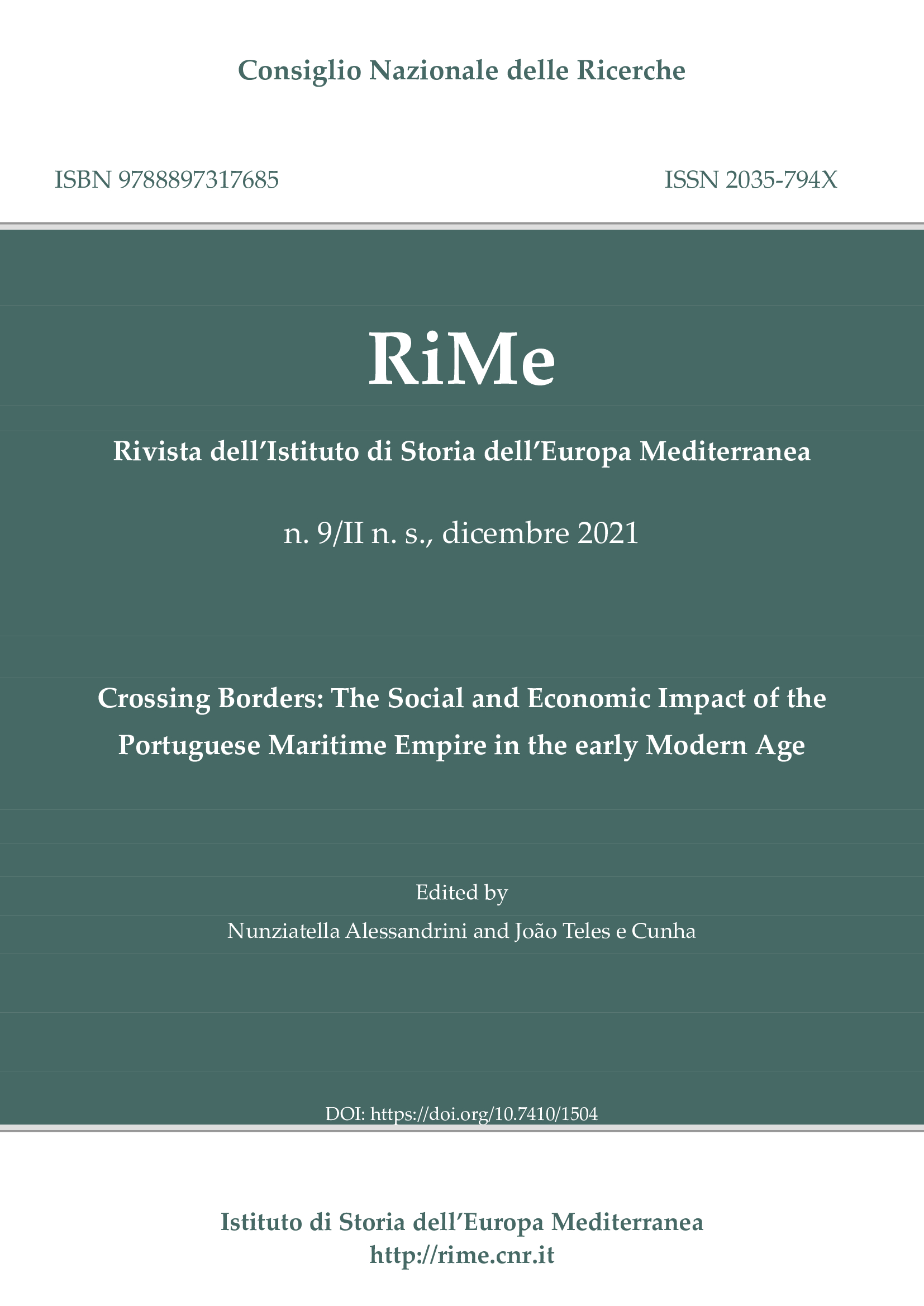 Section
RiMe 9/II n.s. (December 2021). Special Issue

This work is licensed under a Creative Commons Attribution-NonCommercial 4.0 International License.
Authors who publish with this Journal agree to the following terms:
Authors retain copyright and grant the Journal right of first publication with the work simultaneously licensed under a Creative Commons Attribution-NonCommercial 4.0 International License.
This Journal permits and encourages authors to post items submitted to the Journal on personal websites or institutional repositories both prior to and after publication, while providing bibliographic details that credit, if applicable, its publication in this Journal.