Emergenza e (dis)continuità: Venezia, 1630-1631
Emergency and (dis)continuity: Venice, 1630-1631
Isabella Cecchini

CNR - Istituto di Storia dell'Europa Mediterranea
Keywords:
Venetian Republic, 1630-31 Plague, Financial Consequences of Epidemics, Giro Bank, Repubblica di Venezia, Peste del 1630-31, Conseguenze Finanziarie delle Epidemie, Banco del Giro
Abstract
Between 1627 and 1631 Venice and its mainland state were visited by the passage of the three horsemen of the Apocalypse, as Carlo M. Cipolla called war, plague, and famine in their raids across the Italian territory. A tragic human and economic outcome followed. And yet this discontinuity is blurred and less clear-cut than expected. The Venetian government heavily intervened to contrast the shocks, and, among its several actions, it assisted the public bank in charge of managing the floating debt (the Banco del Giro). This study considers the relative discontinuity the Banco experienced during these difficult years.
Tra il 1627 e il 1631 Venezia e il suo stato di terraferma furono visitati dal passaggio dei tre cavalieri dell'Apocalisse, come Carlo M. Cipolla aveva definito guerra, peste, e carestia nelle loro scorribande lungo il territorio italiano. Il bilancio – umano ed economico – fu drammatico, ma la dis-continuità impressa dai tre cavalieri assume contorni imprecisi e difficili da quantificare. Il governo veneziano intervenne pesante-mente per sostenere la popolazione e l'economia. Uno dei settori di intervento fu quello finanziario: le crisi ebbero effetto anche sul banco pubblico deputato a gestire il debito fluttuante (il Banco del Giro). La relativa discontinuità impressa al Banco in questi anni difficili costituisce il caso di studio di questo contributo.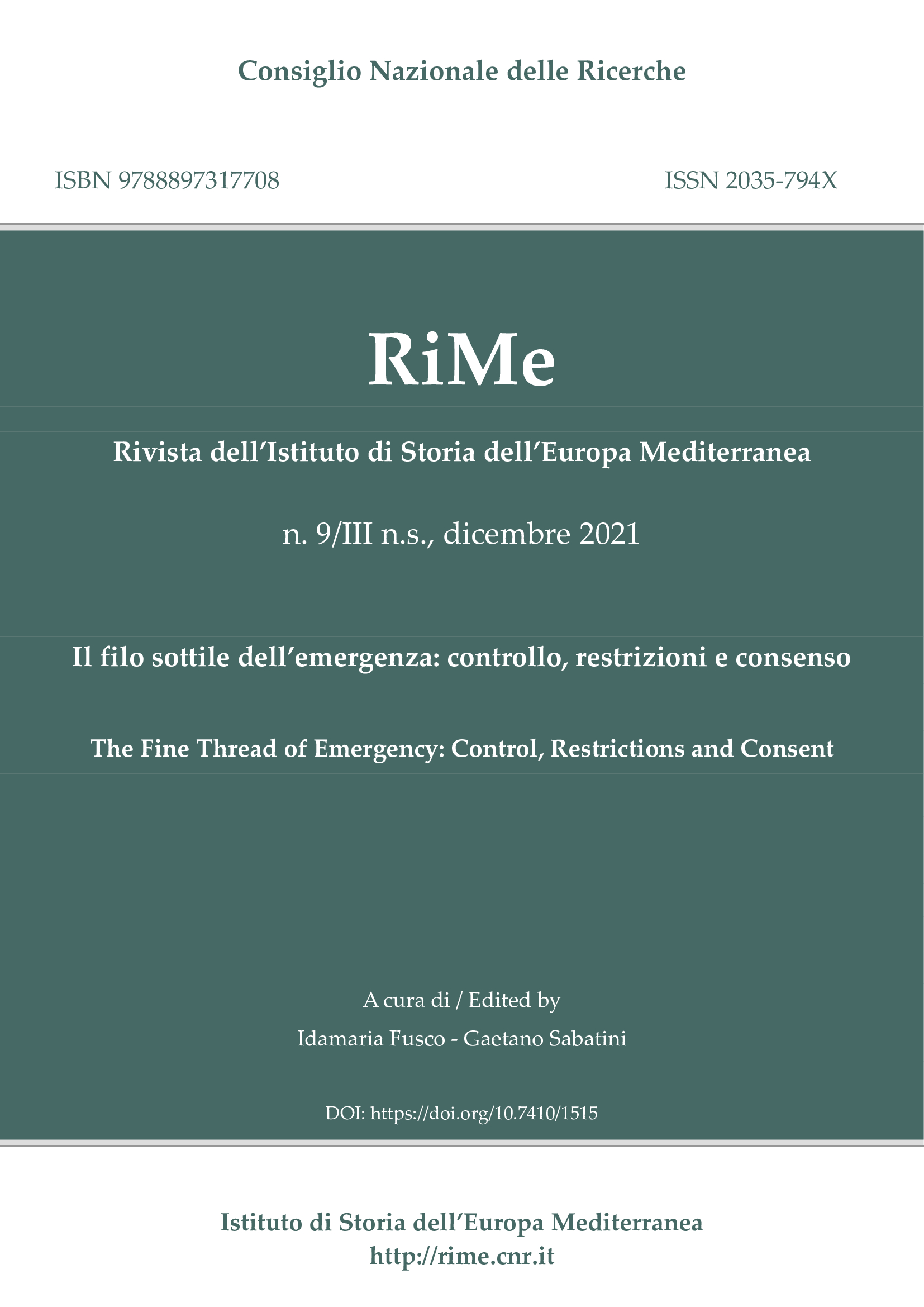 Section
RiMe 9/III n.s. (December 2021). Special Issue

This work is licensed under a Creative Commons Attribution-NonCommercial 4.0 International License.
Authors who publish with this Journal agree to the following terms:
Authors retain copyright and grant the Journal right of first publication with the work simultaneously licensed under a Creative Commons Attribution-NonCommercial 4.0 International License.
This Journal permits and encourages authors to post items submitted to the Journal on personal websites or institutional repositories both prior to and after publication, while providing bibliographic details that credit, if applicable, its publication in this Journal.