'Venezia atlantica': per un'analisi economica e culturale dell'impatto dei generi coloniali nel secondo Settecento
'Atlantic Venice': for an economic and cultural analysis of the impact of colonial goods in the second half of the 18th century
Giulia Delogu

Università Ca' Foscari Venezia
Keywords:
Venice, Colonial Goods, America, Economy, Culture, Venezia, Generi Coloniali, Economia, Cultura
Abstract
This contribution brings together sources of different nature (from the Customs Registers of the Cinque Savi alla Mercanzia to gazettes, from medical and moralizing pamphlets to successful novels) with the aim of depicting the panorama of the material and immaterial reception of colonial goods through the observatory of Venice, whose enduring role is highlighted as a centre of commercial circulation but above all of gathering, building and refraction of ideas and information. This double perspective that intertwines the economic and cultural data allows us to illustrate how Venice had not given up the attempt to build organic commercial policies, looking especially to the West and collecting in a systematic and conscious way an important amount of data and information that should have been translated into reforms.
Questo contributo fa dialogare tra loro fonti di natura diversa (dai Registri doganali dei Cinque Savi alla Mercanzia a periodici, dalla pamphlettistica medica e moraleggiante a romanzi di successo) con l'obiettivo di restituire il panorama della ricezione materiale e immateriale delle merci coloniali attraverso l'osservatorio di Venezia, di cui si mette in luce il perdurante ruolo quale centro di circolazione commerciale ma soprattutto di raccolta, costruzione e rifrazione di idee e informazioni. Questa doppia prospettiva che intreccia il dato economico e quello culturale permette di illustrare come Venezia non avesse rinunciato al tentativo di costruire politiche commerciali organiche guardando soprattutto a Ponente e raccogliendo in modo sistematico e consapevole un'importante mole di dati e informazioni che avrebbero dovuto tradursi in riforme.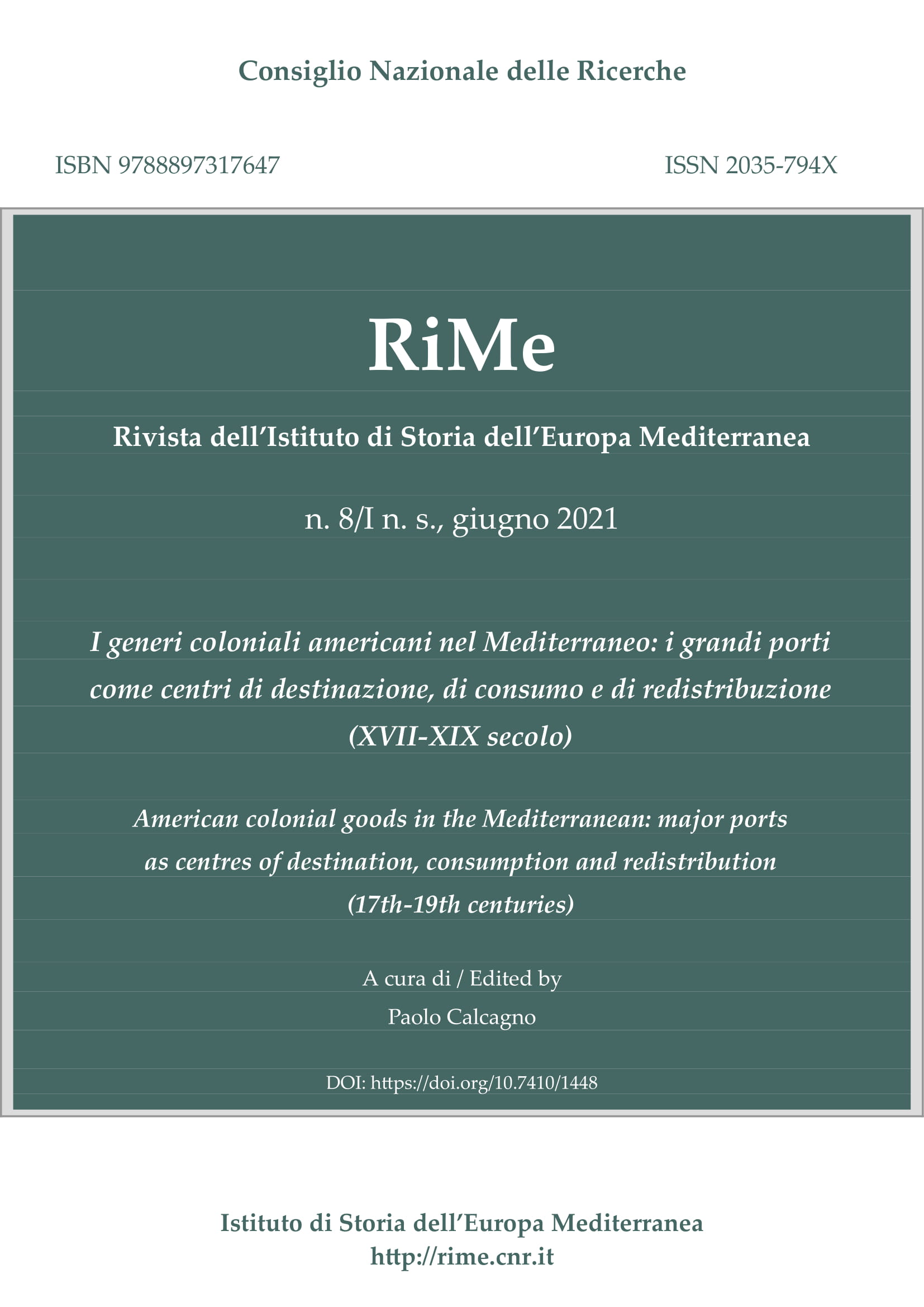 Section
RiMe 8/I n.s. (June 2021). Special Issue

This work is licensed under a Creative Commons Attribution-NonCommercial 4.0 International License.
Authors who publish with this Journal agree to the following terms:
Authors retain copyright and grant the Journal right of first publication with the work simultaneously licensed under a Creative Commons Attribution-NonCommercial 4.0 International License.
This Journal permits and encourages authors to post items submitted to the Journal on personal websites or institutional repositories both prior to and after publication, while providing bibliographic details that credit, if applicable, its publication in this Journal.