Antonio Albergati, coletor em Portugal (1622-1624): uma presença contra a escravidão. Documentos inéditos em bibliotecas romanas
Antonio Albergati, collector in Portugal (1622-1624): a presence against slavery. Unpublished documents in Roman libraries
Mariagrazia Russo

Università degli Studi Internazionali di Roma (UNINT)
Keywords:
Antonio Albergati, Portugal, Propaganda Fide, 17th century, Unpublished Documents, século XVII, Documentos inéditos
Abstract
In the 17th century, in the Iberian Peninsula, relations between Church and State were very tense, each of the parties calling upon themselves the political and legal powers that would guarantee them the preservation of authority; to this was added the question linked to the recognition of Portuguese independence by the government of Rome. Antonio Albergati (1566-1634), appointed collector in Lisbon in 1620, acted in this context. In this article are presented three unpublished documents that show the influence that Albergati had and the dedication with which he worked to collect and disseminate news about the Portuguese colonies in Africa, highlighting its commitment to the spread of the Catholic faith and against slavery.
No século XVII, na Península Ibérica, as relações entre Igreja e Estado estiveram muito tensas, cada uma das partes a avocar para si as poderes políticos e jurídicos que lhes garantiriam a preservação da autoridade; a isto acrescentava-se a questão ligada ao reconhecimento da independência portuguesa por parte do governo de Roma. Neste quadro atuou Antonio Albergati (1566-1634), nomeado coletor em Lisboa em 1620. Neste artigo apresentam-se três documentos inéditos que mostram a influência que Albergati teve e o afinco com o qual trabalhou para recolher e divulgar notícias sobre as colônias portuguesas em África, destacando-se o seu empenho para a difusão da fé católica e contra a escravidão.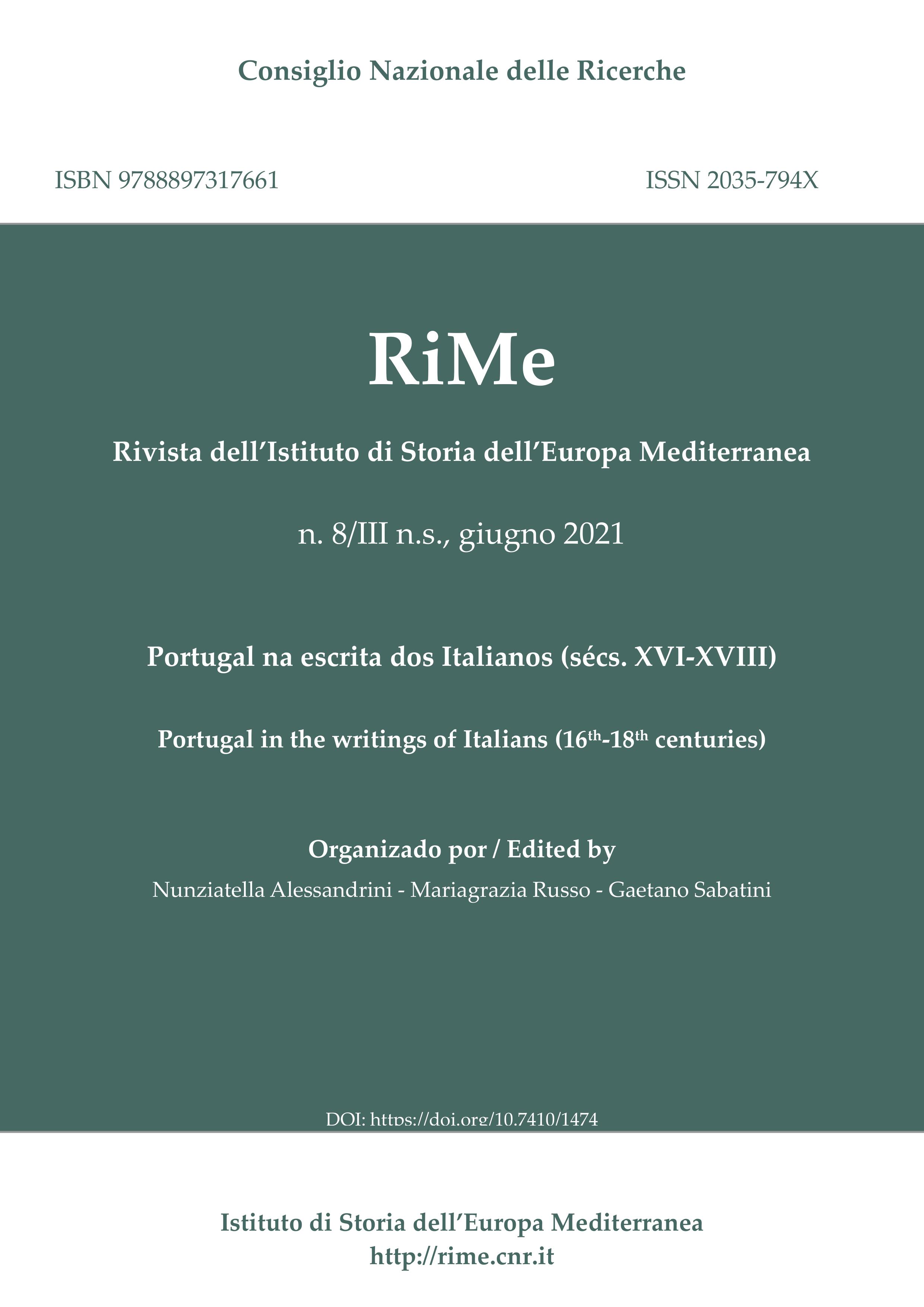 Section
RiMe 8/III n.s. (June 2021). Special Issue

This work is licensed under a Creative Commons Attribution-NonCommercial 4.0 International License.
Authors who publish with this Journal agree to the following terms:
Authors retain copyright and grant the Journal right of first publication with the work simultaneously licensed under a Creative Commons Attribution-NonCommercial 4.0 International License.
This Journal permits and encourages authors to post items submitted to the Journal on personal websites or institutional repositories both prior to and after publication, while providing bibliographic details that credit, if applicable, its publication in this Journal.