Uso e commercio degli animali non umani nell'espansione portoghese (secoli XV e XVI): le testimonianze dei viaggiatori italiani
Use and trade of non-human animals in Portuguese overseas expansion (15th and 16th centuries): Evidence from Italian travellers
Cecilia Veracini

CAPP - ISCSP, Universidade de Lisboa
Keywords:
Portuguese expansion, Non-human animals, Trade, Italian travellers, 15th and 16th centuries, Espansione portoghese, Animali non umani, Commercio, Viaggiatori italiani, Secoli XV e XVI
Abstract
Human history is intimately connected to non-human animals. Their importance has in some cases been able to modify or profoundly influencing history itself. The cultural and symbolic aspects of human-nonhuman animal coexistence, intersect material culture and the role that nonhuman animals have played in terms of food, recreation and economics over the millennia. This work, based on the travel narratives of the Italians who took part in the Portuguese expansion in the 15th and 16th centuries, focuses on the aspects linked to the direct and indirect use of animals. In particular, it will be analysed those parts which provide data about the role of non-human animals during the Portuguese expansion.
La storia umana è intimamente connessa al mondo degli animali non umani la cui rilevanza ha in taluni casi potuto modificare o inflenzare profondamente la storia stessa. Gli aspetti culturali e simbolici di questa coesistenza s'intersecano con quelli legati alla cultura materiale e al ruolo che gli altri animali hanno rivestito dal punto di vista alimentare, ludico e economico nel corso dei millenni. Questo lavoro partendo dalla narrativa di viaggio degli italiani che a vario titolo presero parte all'espansione portoghese nei secoli XV e XVI, si è focalizzato sugli aspetti legati all'uso diretto e indiretto degli animali, in particolare analizze quelle parti che forniscono un quadro dell'apporto che, il commercio e l'uso degli animali non umani, diede all'espansione portoghese.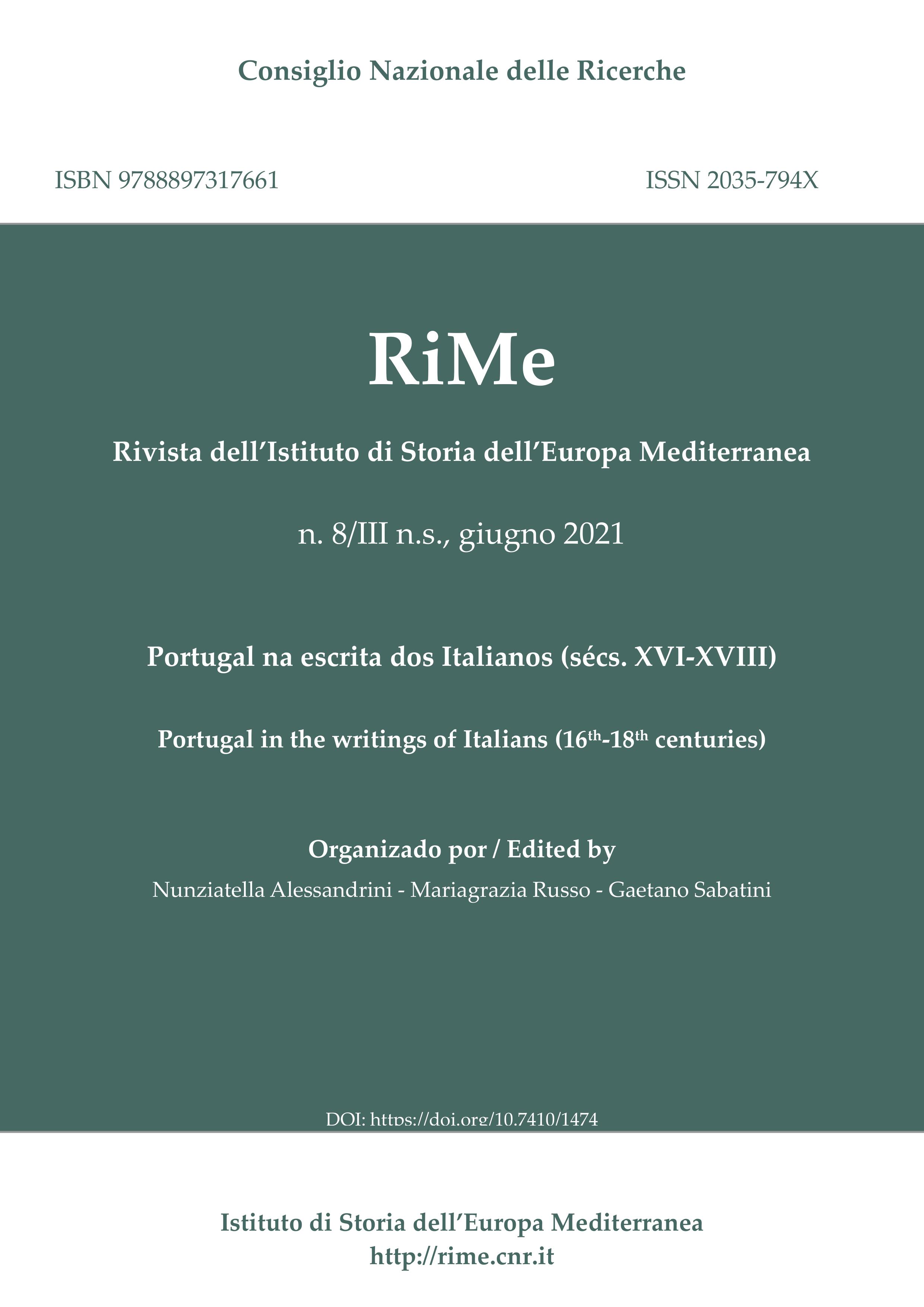 Section
RiMe 8/III n.s. (June 2021). Special Issue

This work is licensed under a Creative Commons Attribution-NonCommercial 4.0 International License.
Authors who publish with this Journal agree to the following terms:
Authors retain copyright and grant the Journal right of first publication with the work simultaneously licensed under a Creative Commons Attribution-NonCommercial 4.0 International License.
This Journal permits and encourages authors to post items submitted to the Journal on personal websites or institutional repositories both prior to and after publication, while providing bibliographic details that credit, if applicable, its publication in this Journal.