Mentalità e pratica legale ai confini dell'Europa latina medievale: notai pubblici in Transilvania (secoli XIV-XVI)
Legal Mentality and Praxis on the Border of Medieval Latin Europe: Notaries Public in Transylvania (14th-16th Centuries)
Adinel Ciprian Dincă

Babes-Bolyai University
Keywords:
Literacy, Learned Law, Parish Church, Voluntary Jurisdiction, Cultural Transfer, Alfabetismo, Diritto scritto, Chiesa parrocchiale, Giurisdizione volontaria, Trasferimento culturale
Abstract
The introduction in the 14th century and the further development of public notaries almost exclusively in urban communities inhabited by German population in Transylvania can be regarded as a peculiarity of the legal system from medieval Hungary. The establishing of a group of professional law-experts in the easternmost province of the Hungarian Kingdom, or its relation to the European notarial system, has not been thoroughly studied up to this moment. Therefore, the object of the present study is to draw up, systematically and concisely, a general perspective on the Transylvanian notaries public, filtered through the prism of the most recent findings and contributions to the subject.
L'istituzione notarile, comparsa in Transilvania nella prima metà del secolo XIV e caratterizzata da una particolare fioritura fino verso la metà del XVI secolo, limitata quasi esclusivamente però al contesto dei centri urbani della regione, abitati in preponderanza da popolazione tedesca, può interpretarsi come una particolarità del sistema giuridico dell'Ungheria medievale. La formazione di un gruppo di giurisperiti professionisti nella più orientale delle provincie del Regno ungherese e i suoi rapporti con il sistema notarile europeo rappresentano fenomeni che fino ad oggi non sono stati oggetto di studi approfonditi. L'obiettivo del presente saggio è pertanto quello di presentare in modo conciso e sistematico lo stato della ricerca scientifica relativa al notariato transilvano, delineando il quadro che emerge dalle più recenti scoperte e contributi sull'argomento.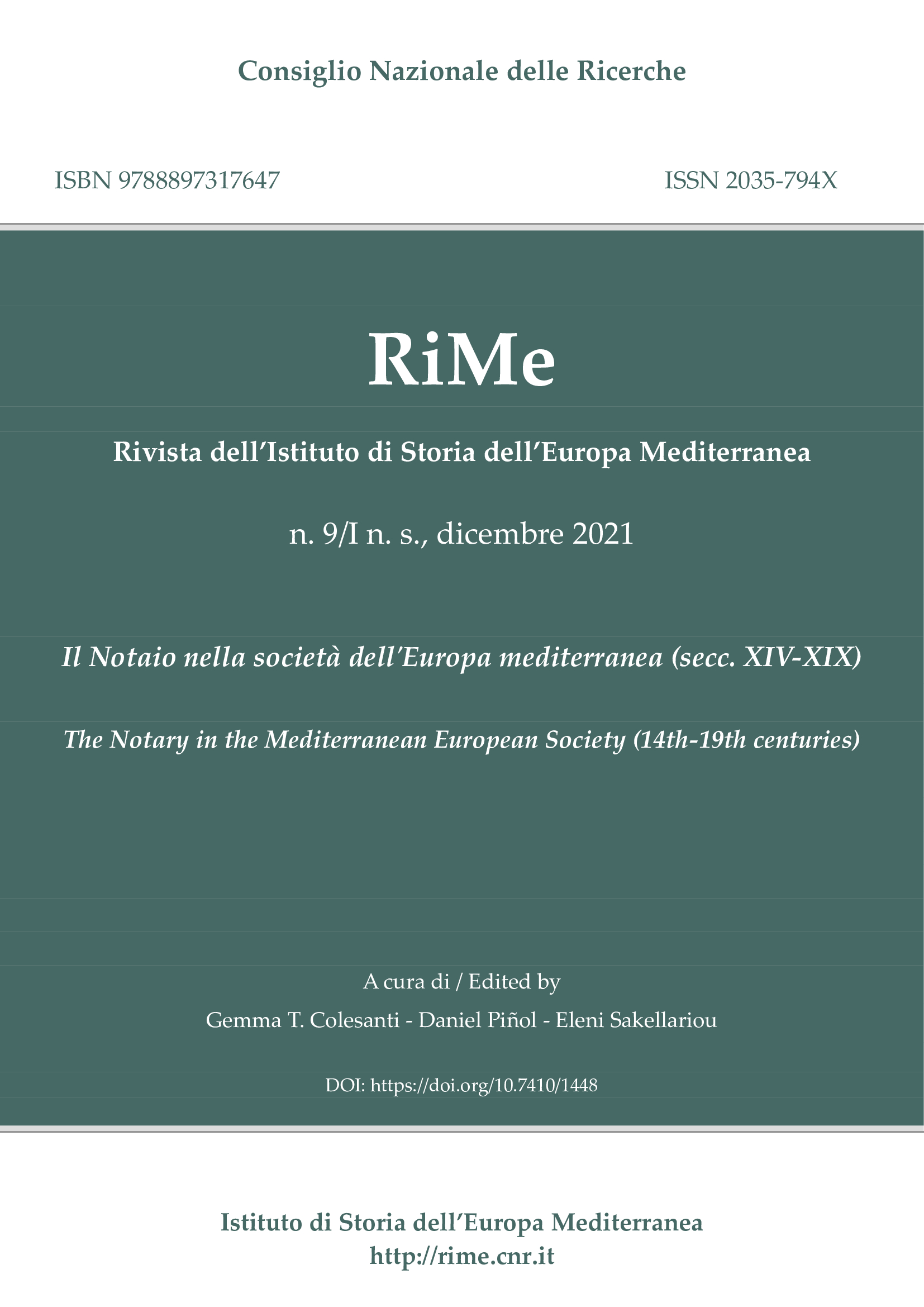 Section
RiMe 9/I n.s. (December 2021). Special Issue

This work is licensed under a Creative Commons Attribution-NonCommercial 4.0 International License.
Authors who publish with this Journal agree to the following terms:
Authors retain copyright and grant the Journal right of first publication with the work simultaneously licensed under a Creative Commons Attribution-NonCommercial 4.0 International License.
This Journal permits and encourages authors to post items submitted to the Journal on personal websites or institutional repositories both prior to and after publication, while providing bibliographic details that credit, if applicable, its publication in this Journal.