Pomponio Leto e la topografia del Quirinale nei protocolli notarili
Pomponio Leto and the topography of Quirinale hill in the notary registers
Alessia Dessì

Sapienza Università di Roma
Keywords:
Pomponio Leto, Angelo Colocci, Quirinale, Humanism, Topography, Umanesimo, Topografia
Abstract
This essay aims to analyze some notary registers of the Rome Statal Archive to discover new biographical information about the humanist Pomponio Leto and to start a study about the topography of Montecavallo on Quirinale hill by the analysis of Leto's properties. In these documents achieve new importance the ancient monuments, which become geographic and cultural reference points. In this way, notaries and humanists become essential source for the modern researcher.
Nel presente contributo si analizzano alcuni protocolli notarili conservati presso il fondo del Collegio dei Notai Capitolini dell'Archivio di Stato di Roma riguardanti la figura dell'umanista Pomponio Leto; il fine non è solo quello di rintracciare informazioni biografiche su di lui, ma si intende anche contribuire alla ricostruzione topografica dell'area di Montecavallo al Quirinale attraverso l'esame dei suoi possedimenti. Inedita è anche l'importanza che negli atti rogati dai notai esercitano i monumenti antichi, che diventano punto di riferimento culturale e geografico immediatamente riconoscibile per tutte le parti coinvolte. Mondo notarile e umanistico si fondono diventando fonti imprescindibili per il ricercatore.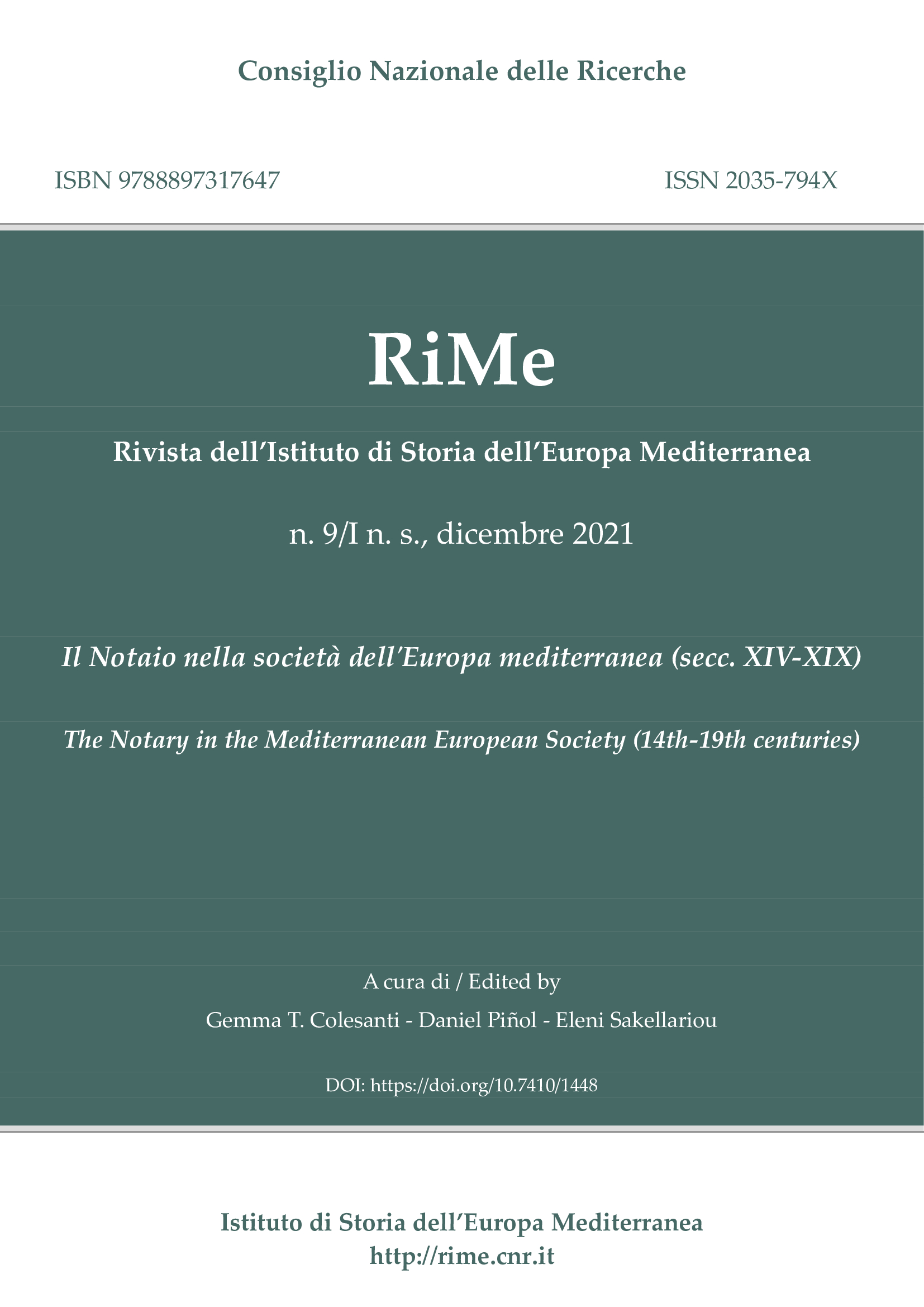 Section
RiMe 9/I n.s. (December 2021). Special Issue

This work is licensed under a Creative Commons Attribution-NonCommercial 4.0 International License.
Authors who publish with this Journal agree to the following terms:
Authors retain copyright and grant the Journal right of first publication with the work simultaneously licensed under a Creative Commons Attribution-NonCommercial 4.0 International License.
This Journal permits and encourages authors to post items submitted to the Journal on personal websites or institutional repositories both prior to and after publication, while providing bibliographic details that credit, if applicable, its publication in this Journal.