Descolonizar y desnacionalizar la historiografía que se ocupa de las relaciones de Europa con los países del Magreb y Oriente Próximo en la Edad Moderna (siglos XVI‐XVIII)
Decolonising and denationalising the historiography on the relationship between Europe and Maghrebian and Near East countries in the early Modern Age (16th ‐ 18th centuries)
Eloy Martín Corrales

Universitat Pompeu Fabra ‐ Barcelona
Keywords:
Diplomacy, Trade, Treaties, Early Modern Age, Diplomacia, Comercio, Tratados, Edad Moderna
Abstract
Historiography on the relationship of European countries with Maghreb and Ottoman Empire in the early modern period is strongly influenced by French and Anglo‐Saxon academies. As a consequence, there is a vision which concedes an excessive importance to French, English and Dutch diplomats and traders, while
underestimates the role of the Portuguese, Spanish, Italian, Maltese, Ragusean and other ones in the exchanges and negotiations with the Muslim "Other". Therefore, we can talk about the need of a decolonization, in order to attribute to all the agents from both shores who necessarily participate in diplomatic and
trade relationships (both state, regional and private, as well as religious and commercial minorities) the importance they really had in such activities in the early modern period. All of this will have the benefit of a more integrated and more powerful history of the common Mediterranean.
La historiografía que se ocupa del estudio de las relaciones entre los países de Europa y los del Magreb y el Imperio Otomano en la Edad Moderna, está fuertemente influenciada por las academias francesa y anglosajona. Eso se traduce en una visión que otorga una importancia excesiva a diplomáticos y comerciantes franceses, ingleses y holandeses, mientras se infravalora el papel de portugueses, españoles, italianos, malteses, raguseos y otros en los intercambios y negociaciones con el Otro musulmán. De ahí que podamos hablar de la necesidad de una descolonización y de una desnacionalización, que permita otorgar a todos y cada uno de los agentes de una y otra orilla que necesariamente participaron en las relaciones diplomáticas y mercantiles (tanto estatales, como regionales y particulares, así como minorías religiosas y culturales) la importancia que realmente tuvieron en tales actividades en la Edad  Moderna. Todo ello en beneficio de una historia más integrada y más potente del Mediterráneo común.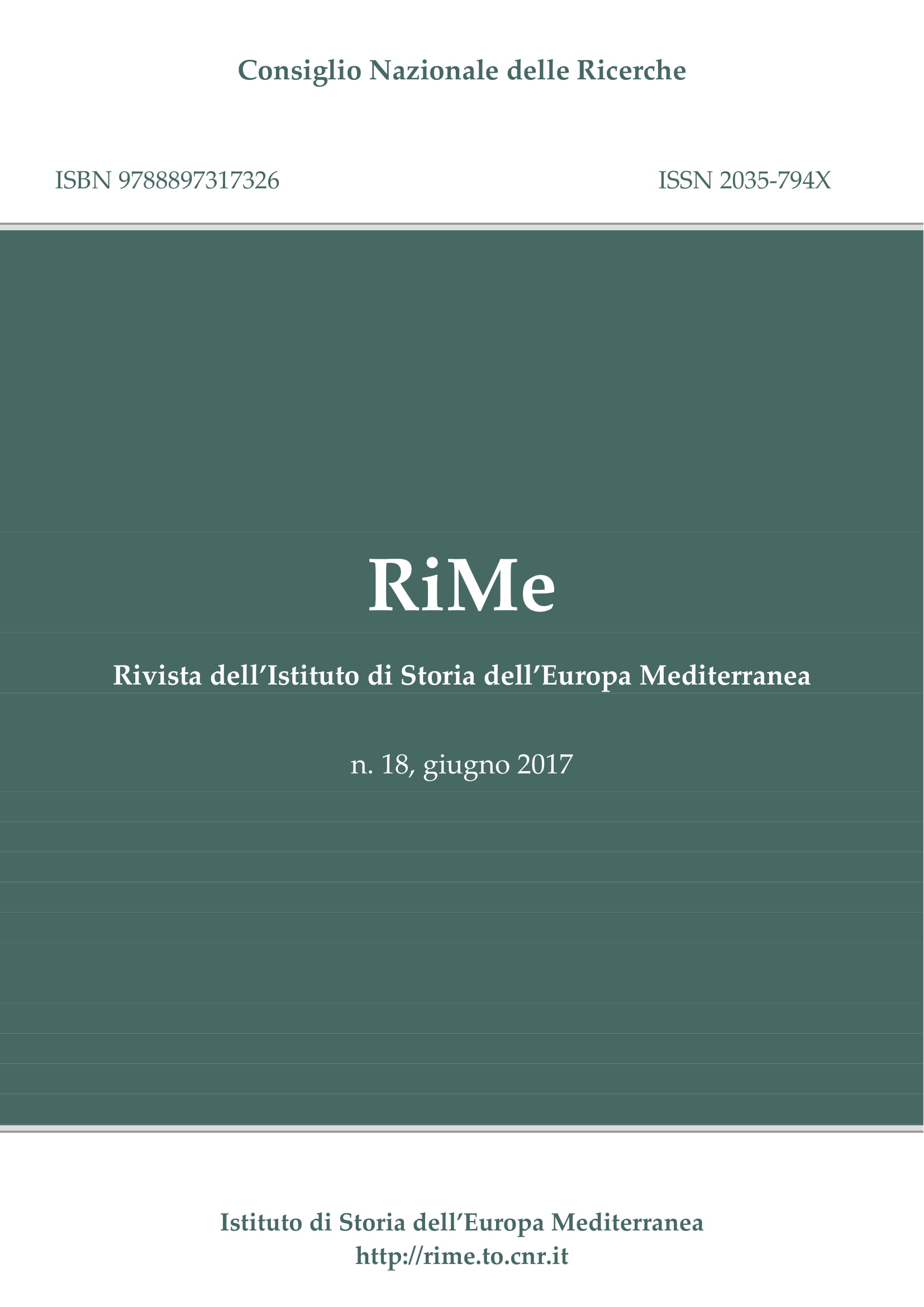 This work is licensed under a Creative Commons Attribution-NonCommercial 4.0 International License.
Authors who publish with this Journal agree to the following terms:
Authors retain copyright and grant the Journal right of first publication with the work simultaneously licensed under a Creative Commons Attribution-NonCommercial 4.0 International License.
This Journal permits and encourages authors to post items submitted to the Journal on personal websites or institutional repositories both prior to and after publication, while providing bibliographic details that credit, if applicable, its publication in this Journal.