Circolazioni "forzose" nel Mediterraneo moderno. Norme giuridiche e pratiche di riscatto dei captivi attraverso le redenzioni mercedarie (secoli XVI-XVII)
"Forced" movements in the modern Mediterranean. Legal rules and practices for the redemption of captives through mercedary redemptions (16th - 17th centuries)
Michele Bosco

Università degli Studi di Firenze / EHESS, Paris
Keywords:
Guerra di corsa, Slavery, Redemptions, Mercedarians, Mediterranean, Captivi, Barberia, Renegades, Schiavitù, Redenzioni, Mercedari, Mediterraneo, Rinnegati
Abstract
Nel Mediterraneo di età moderna migliaia di uomini e donne sperimentarono la schiavitù e furono protagonisti di una circolazione "forzosa" tra le due rive; tra i cristiani captivi in terra d'Islam, alcuni si convertirono, altri furono venduti ai privati e altri ancora riscattati, ad opera di Ordini religiosi o di apposite magistrature cittadine. Dopo un inquadramento generale del fenomeno della redenzione dei captivi e dei contorni giuridici che lo regolavano, il saggio si concentra in particolare sulle modalità di riscatto praticate dall'Ordine dei Mercedari e intende mostrare come alla base di queste vi fossero precisi interessi politici ed economici, ai quali - malgrado la propaganda ufficiale - anche i religiosi dovevano sottostare.
In the Mediterranean of the modern age, thousands of men and women experienced slavery and they played leading roles in a "Forced" circulation between the two shores; among the Christian capitvi in Muslim lands, some converted, others were sold to private peoples and many others were ransomed, by religious Orders or special city magistrates. After a general overview of the phenomenon of the captivi liberation and the juridical context regulating it, the paper focuses on the redemption modes of the Mercedarian Order. The aim is to show how at the base of these modes there were specific political and economic interests, which - despite the official propaganda - even the religious individuals had to endure.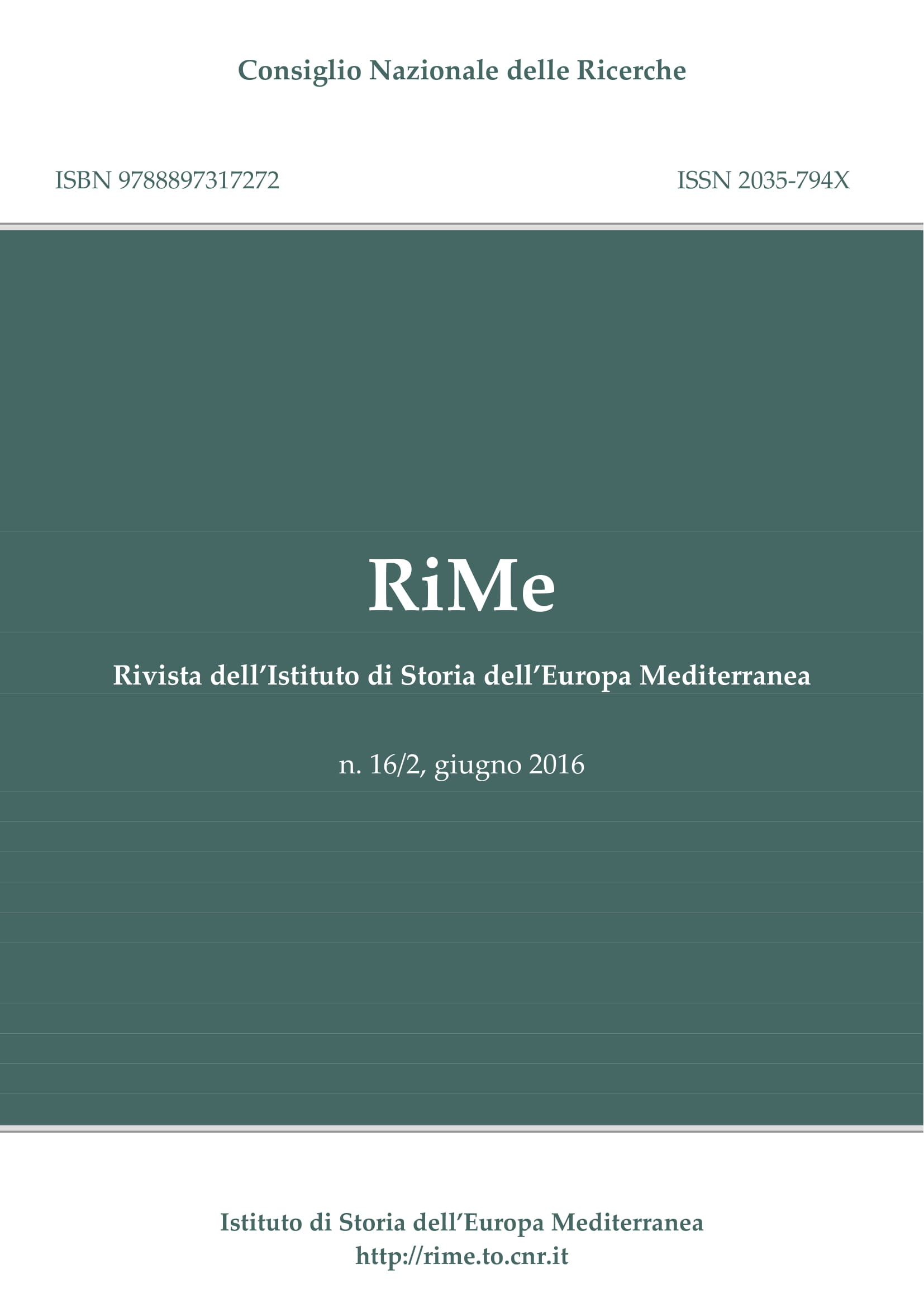 This work is licensed under a Creative Commons Attribution-NonCommercial 4.0 International License.
Authors who publish with this Journal agree to the following terms:
Authors retain copyright and grant the Journal right of first publication with the work simultaneously licensed under a Creative Commons Attribution-NonCommercial 4.0 International License.
This Journal permits and encourages authors to post items submitted to the Journal on personal websites or institutional repositories both prior to and after publication, while providing bibliographic details that credit, if applicable, its publication in this Journal.