Medievalister: el medievalismo en la encrucijada de la revolución digital
Medievalister: Medievalism at the Crossroads of the Digital Revolution
Keywords:
Digital Society, Medievalism, Middle Ages, Video Games, Communications Revolution, Sociedad digital, Medievalismo, Edad Media, Videojuegos, Revolución de las comunicaciones
Abstract
Digital technologies have become common tools for society as a whole, and those of us in the humanities are witnesses to the communications revolution that has made this possible. The work of the historian researching the Middle Ages has been affected, like the rest, by this reality. The creation of different digital content distribution channels, such as YouTube or even video games, has made it possible to expose the debate on the image that the medieval period projects on our society. There is an increasing demand for knowledge about the authenticity of the historical account, and the medievalist faces this challenge with a commitment that he must take responsibility for if he does not want to compromise his own meaning in the digital society.
Las tecnologías digitales se han convertido en unas herramientas de uso común para la sociedad en su conjunto, y testigos de la revolución de las comunicaciones que la han hecho posible, nos encontramos quienes nos dedicamos a las Humanidades. El trabajo del historiador que se dedica a investigar la Edad Media se ha visto afectado, como el resto, por esta realidad. La creación de diferentes canales de distribución de contenidos digitales, como YouTube o incluso el videojuego, ha permitido exponer el debate sobre la imagen que el periodo medieval proyecta sobre nuestra sociedad. Cada vez hay mayor demanda de conocimiento sobre lo auténtico del relato histórico, y el medievalista se enfrenta a ese reto con un compromiso que le debe asumir responsabilidades si no quiere comprometer su propio significado en la sociedad digital.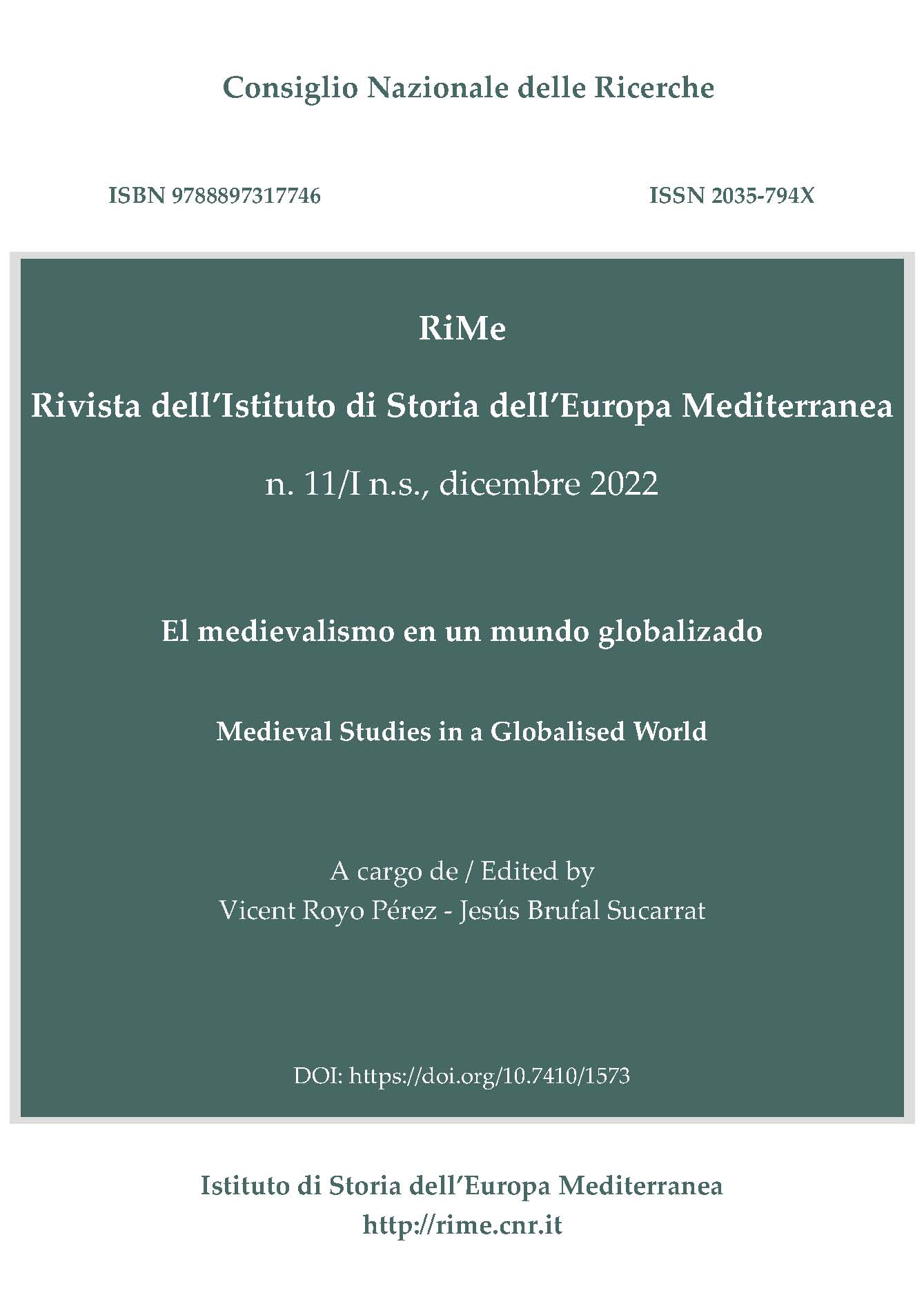 Section
RiMe 11/I n.s. (December 2022). Special Issue

This work is licensed under a Creative Commons Attribution-NonCommercial 4.0 International License.
Authors who publish with this Journal agree to the following terms:
Authors retain copyright and grant the Journal right of first publication with the work simultaneously licensed under a Creative Commons Attribution-NonCommercial 4.0 International License.
This Journal permits and encourages authors to post items submitted to the Journal on personal websites or institutional repositories both prior to and after publication, while providing bibliographic details that credit, if applicable, its publication in this Journal.