El medievalismo en un mundo globalizado
Medieval Studies in a globalised world
Vicent Royo Pérez

Universidad de Valladolid

Jesús Brufal Sucarrat

Universitat Autònoma de Barcelona
Keywords:
Medieval History, Medieval Studies, Historiography, Popular Science, Historia Medieval, Medievalismo, Historiografía, Divulgación
Abstract
This special issue brings together a series of papers dealing with different aspects related to the current situation of the Medieval Studies in the context of a globalised world. The SARS-CoV-2 pandemic has uncovered some of the dysfunctions that affected our discipline in recent years. Also, has imposed certain conditions that have significantly transformed the working practice of medievalists, as well as the mechanisms of communication and transmission of knowledge. As a result of all these changes, the coordinators of this monographic issue have put forward a series of reflections that affect the Medieval Studies as a whole and which, according to the papers collected, can be grouped under three main headings. To begin with, the emergence and remarkable impulse of new themes, concepts and methodologies coexists with the renewal of the lines of study traditionally held by the different Medieval Historiography. It is therefore necessary to scrutinise the terms in which the dialogue between the two strands takes place and, above all, the extent to which the combination of the two can transform research paradigms, if it has not already done so. In the same way, in a context in which digital tools and mass media are in full control, it is necessary to analyse the role played by the medievalist in this field in order to discern whether he or she has been able to adapt to the new realities. Finally, in a broader sense, knowledge transfer initiatives promoted by academia should be analysed in order to ascertain the real impact of research on society. In this way, it offers a panoramic view of Medieval Studies and the paths it can take in today's changing and dynamic world.
Este número especial recoge un conjunto de trabajos que abordan diferentes aspectos relacionados con la situación actual del medievalismo en el contexto de un mundo globalizado. La pandemia del SARS-CoV-2 ha destapado algunas de las disfunciones que afectaban a nuestra disciplina en los últimos años y, además, ha impuesto ciertas condiciones que han trasformado significativamente la praxis laboral de los medievalistas, así como los mecanismos de comunicación y transmisión del conocimiento. A raíz de todos estos cambios, los coordinadores de este número monográfico han planteado una serie de reflexiones que afectan al medievalismo en su conjunto y que, de acuerdo con los artículos reunidos, se pueden englobar en tres grandes apartados. Para empezar, la aparición y el notable impulso de nuevos temas, conceptos y metodologías convive con la renovación de las líneas de estudio sostenidas de manera tradicional por las distintas escuelas historiográficas. Por ello, es necesario escrutar los términos en que se produce el diálogo entre las dos vertientes y, sobre todo, en qué medida la conjugación de ambas puede llegar a transformar los paradigmas de investigación, si no lo ha hecho ya. Del mismo modo, en un contexto de pleno dominio de las herramientas digitales y los medios de comunicación de masas, se impone el análisis del papel que juega el medievalista en este ámbito para discernir si ha sabido adaptarse a las nuevas realidades. Finalmente, en un sentido más amplio se deben analizar las iniciativas de transferencia del conocimiento promovidas desde la Academia para conocer el impacto real de la investigación en la sociedad. De este modo, se ofrece una visión panorámica del medievalismo y los caminos que puede tomar en un mundo cambiante y dinámico como el actual.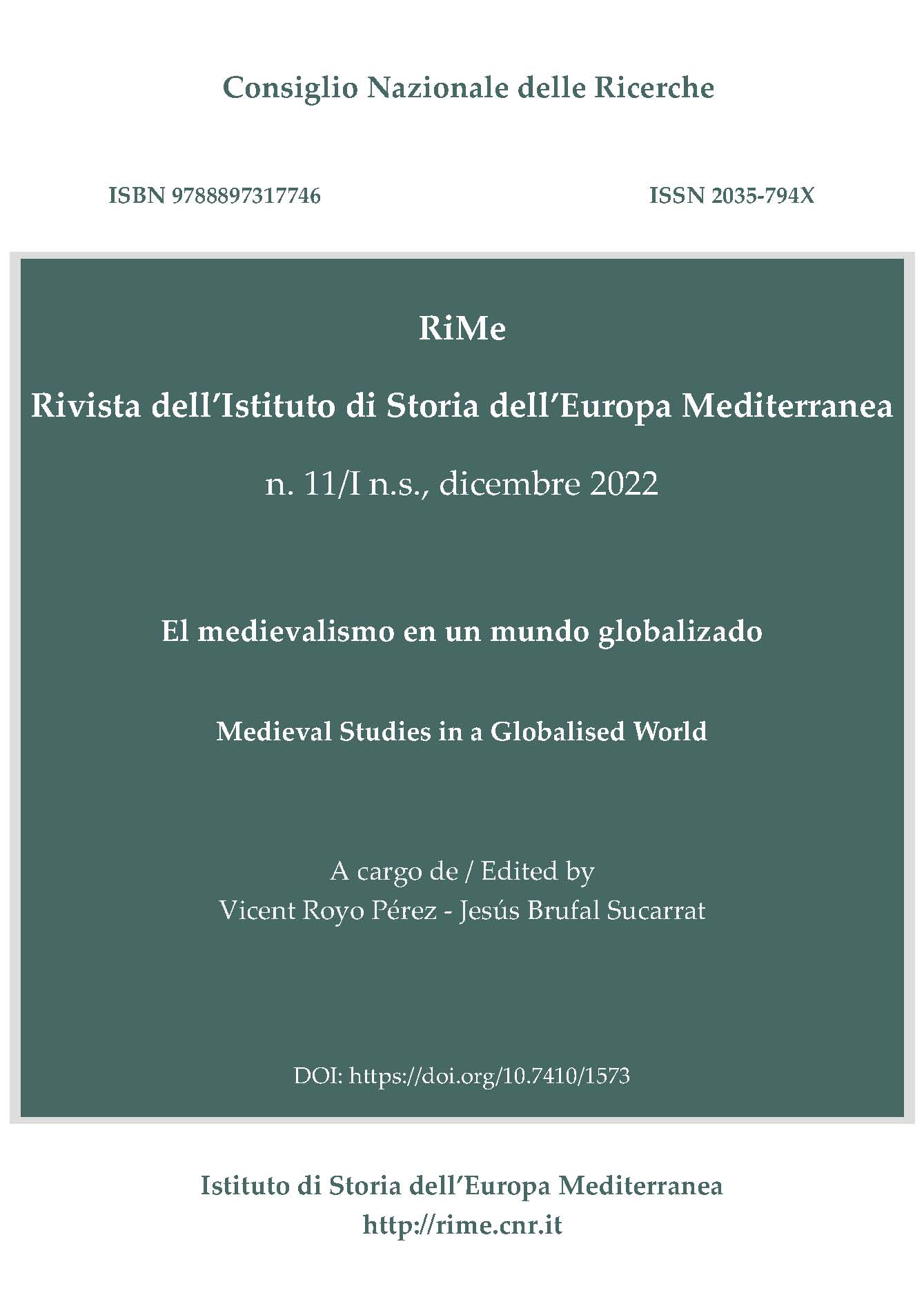 Section
RiMe 11/I n.s. (December 2022). Special Issue

This work is licensed under a Creative Commons Attribution-NonCommercial 4.0 International License.
Authors who publish with this Journal agree to the following terms:
Authors retain copyright and grant the Journal right of first publication with the work simultaneously licensed under a Creative Commons Attribution-NonCommercial 4.0 International License.
This Journal permits and encourages authors to post items submitted to the Journal on personal websites or institutional repositories both prior to and after publication, while providing bibliographic details that credit, if applicable, its publication in this Journal.