Marseille, port du moka et du café des Îles d'Amérique aux XVIIe et XVIIIe siècles
Marseille, port for mocha and coffee from the American islands in the 17th and 18th centuries
Gilbert Buti

Aix Marseille Université
Keywords:
Marseille, Mocha, Coffee, Arabian Peninsula, Antilles, Moka, Café, Péninsule arabique
Abstract
Entrepot for mocha, for whose production Yemen represented the main source in the 17th century, after 1730, Marseille became the entrepot for American coffee. Being of slightly lower quality, the American coffee – whose price was half that of the Arabic coffee – rapidly replaced the former. Marseille withheld only a small portion of it. Similarly to Bordeaux, Nantes and Rouen, the greatest port of Provence was primarily a redistribution centre. Nevertheless, within the inversion of the trade, due to the multiplication of suppliers and the growth of trade volumes, the commercial outlets of Marseille were geographically reduced, being the Levant the foremost purchaser of coffee.
Entrepôt pour le moka, dont le Yémen constituait le gisement essentiel au xviie siècle, Marseille devient après 1730 celui du café des plantations des Îles d'Amérique. De qualité légèrement inférieure, le café américain, qui valait deux fois moins cher que celui d'Arabie, prend rapidement la place de ce dernier dans les échanges commerciaux. Marseille n'en garde pour elle-même qu'une faible part. Comme Bordeaux, Nantes et Rouen, le grand port provençal est avant tout un centre de redistribution. Mais dans cette inversion du flux commercial, alors que se multiplient les lieux d'approvisionnement et que gonflent les volumes mis en circulation, les débouchés du commerce marseillais se resserrent géographiquement, le Levant étant désormais le principal acheteur de café.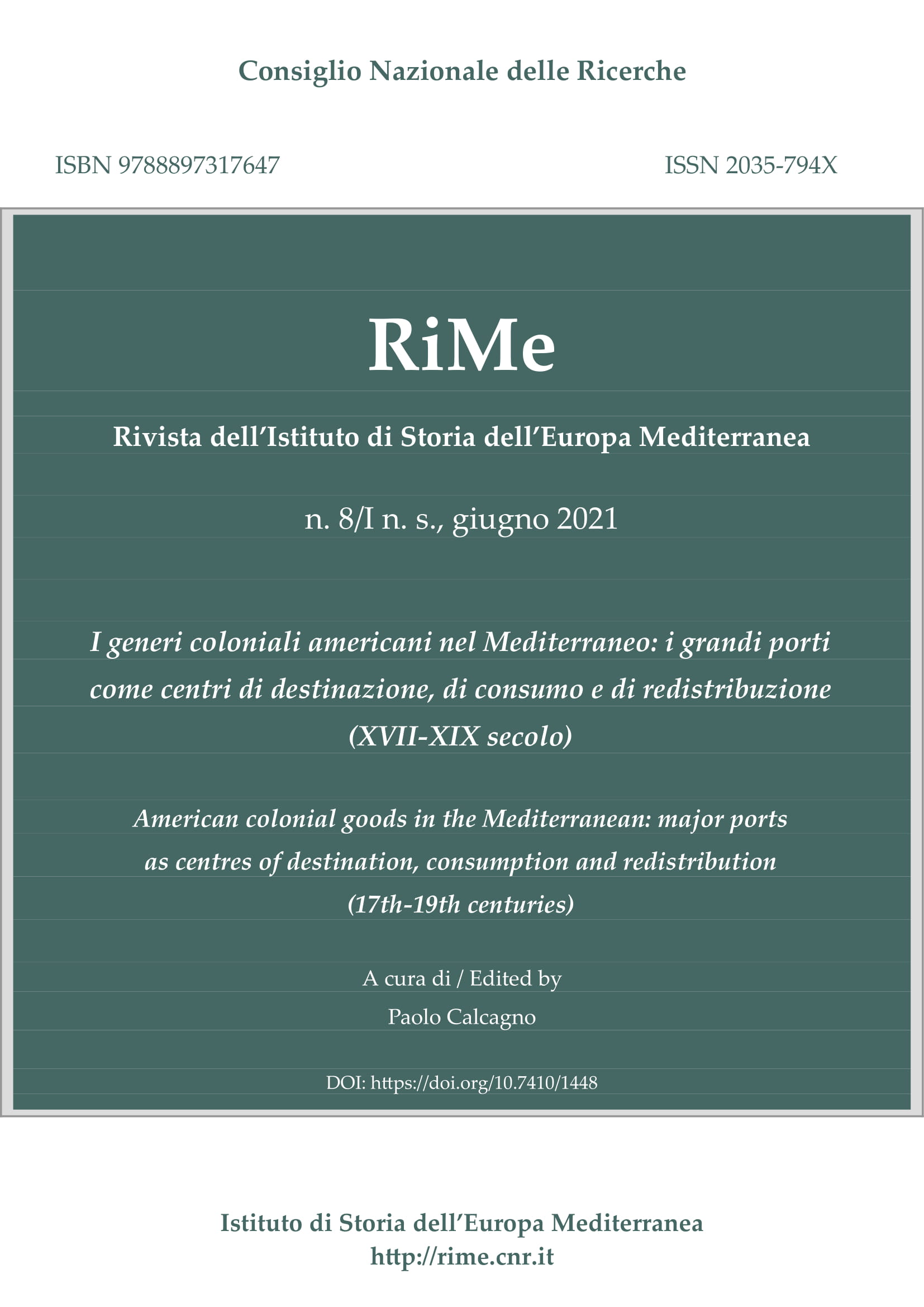 Section
RiMe 8/I n.s. (June 2021). Special Issue

This work is licensed under a Creative Commons Attribution-NonCommercial 4.0 International License.
Authors who publish with this Journal agree to the following terms:
Authors retain copyright and grant the Journal right of first publication with the work simultaneously licensed under a Creative Commons Attribution-NonCommercial 4.0 International License.
This Journal permits and encourages authors to post items submitted to the Journal on personal websites or institutional repositories both prior to and after publication, while providing bibliographic details that credit, if applicable, its publication in this Journal.