Forme e organizzazione assistenziali nella Calabria medievale (secoli XIII-XV)
Forms and organization of welfare activities in medieval Calabria (13th-15th centuries)
Antonio Macchione

Università degli Studi della Basilicata
Keywords:
Hospitals, Fraternities, Flagellants, Calabria, Ospedali, Confraternite, Disciplinati
Abstract
The contribution intends to take stock of the social impact of the Calabrian welfare institutions during the Middle Ages starting from the surviving documentation. Forms and organization of welfare activities coincide with the motivations that have determined their proliferation to face and resolve the hardships of medieval man. In this sense, the story of charitable organizations arises, almost always, at the origins of the city's welfare. In Calabria, in particular, of the fourteenth and fifteenth centuries the forms and the organization of the assistance models could not completely stem the rampant phenomenon of paupertas and child abandonment due to the corruption of the officers and the arrogance of the land aristocracies that limited the charitable action of hospitals and confraternities, pursued more effectively only in the modern age.
Il contributo intende fare il punto sull'incidenza sociale delle istituzioni assistenziali calabresi nel medioevo a partire dalla documentazione superstite. Forme e organizzazione delle attività caritative, infatti, coincidono con le motivazioni che hanno determinato il loro proliferare per affrontare e risolvere i disagi dell'uomo medievale. In questo senso la vicenda degli enti caritativi si pone alle origini del welfare cittadino. In Calabria, in particolare, tra XIV e XV secolo le forme e l'organizzazione dei modelli di assistenza non riuscirono pienamente ad arginare il dilagante fenomeno della paupertas e dell'abbandono minorile a causa della corruzione degli ufficiali e dell'arroganza delle aristocrazie fondiarie che ne limitarono l'azione caritativa, perseguita più efficacemente soltanto in età moderna.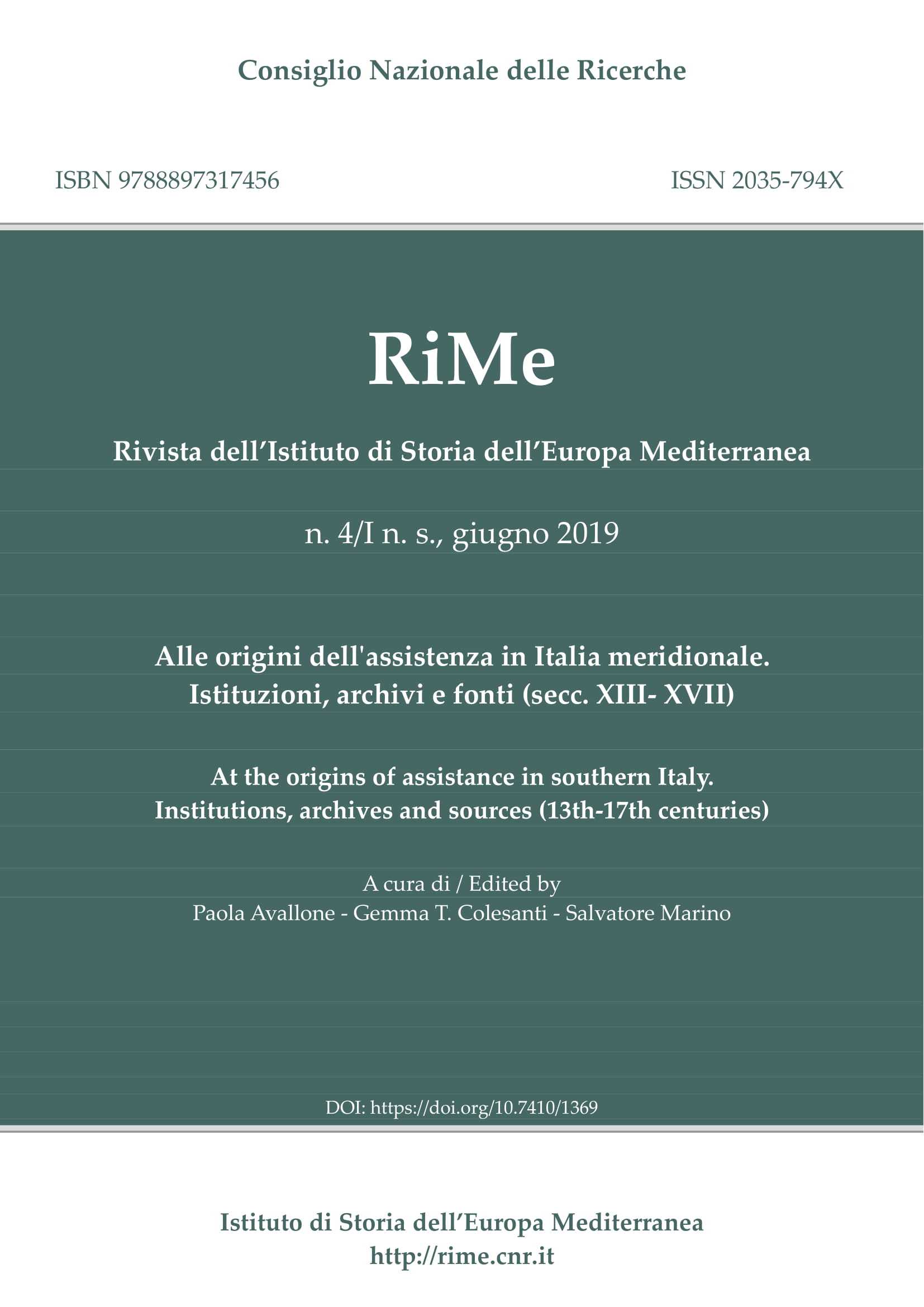 This work is licensed under a Creative Commons Attribution-NonCommercial 4.0 International License.
Authors who publish with this Journal agree to the following terms:
Authors retain copyright and grant the Journal right of first publication with the work simultaneously licensed under a Creative Commons Attribution-NonCommercial 4.0 International License.
This Journal permits and encourages authors to post items submitted to the Journal on personal websites or institutional repositories both prior to and after publication, while providing bibliographic details that credit, if applicable, its publication in this Journal.